Monday, September 1, 2008
The New Look Of GA
How new aircraft buyers are changing the face of general aviation
Cessna's Doman confirms the transformation of the buyer profile, adding, "Our buyer is a successful entrepreneur who has done well early in life and is looking for a challenge. These are people who are able to slot the aircraft into some type of business use. Today's buyer isn't necessarily the kid that grew up building model airplanes and who dreamed of flying all his life."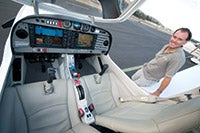 Robert Stewart, a territory manager at Diamond Aircraft, asserts that GA customers are now younger, computer-savvy professionals who don't have as much accumulated flight experience as buyers in the past.
One of the most surprising factors in the general aviation market is the influence of the automobile world. One reason is the remarkable impact of cars like the Ford Mustang and Mini Cooper on the automotive market. With the Mini, BMW bought the rights to a car that was once hip and popular in Europe, reconceptualized the vehicle to ultramodern standards in design, technology, reliability and safety, and marketed it to world acclaim.
The Mini Cooper proved that consumers clamor for innovative design, modern safety features and comfortable, organic interiors in their vehicles. Aviation manufacturers took notice and started incorporating these features into their aircraft. At the same time, advances under the hood, like computer-controlled engines and more efficient powerplants, made their way into airplanes. FADEC, for example, has been available in the auto world for decades and is just now reaching aviation.
The automotive connection has even spread to legacy manufacturers. Rick Neely, director of sales for Mooney, reveals that BMW's design house created the new Mooney interior. Companies like Cirrus and Diamond embraced the auto-like feel years ago. "You have to play to the nonflying spouse," says Diamond's Stewart. "They'll look at the airplane and say, 'Oh, our Lexus has this,' and it's instantly familiar."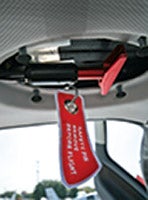 Many buyers are drawn to safety features like the parachute system in Cirrus aircraft.
Even the buying experience is being affected. Doman explains that expectations today are vastly different from 25 years ago. "The bar has been raised and raised and raised again," he says. Doman notes that Cessna looked at Lexus as a model for a customer's buying experience. "They feature areas for children to play in during the buying process, the maintenance experience is seamless and painless; they call to make sure you're satisfied," explains Doman. "These are the standards that modern airplane buyers are used to and expect."
Page 3 of 4