Tuesday, June 7, 2011
Today's GA Market
A dynamic market has created an ideal opportunity for buyers and sellers
It's no secret that it is absolutely a buyer's market right now," says Steve Feldman, aircraft broker for AirplanesUSA, one of the largest aircraft dealers in the nation. "We had one of our biggest years last year, and we are definitely selling airplanes." Feldman, who's based in Chicago and handles the Midwest region as well as international sales, is one of the founders of AirplanesUSA, and has been in the business for more than 25 years. Though he says the market hasn't shown much change in the past few years, the nature of it's different now.
"We're not seeing as many distressed buyers anymore," explains Feldman. "When the economy first took a hit, those people that had to dump their airplanes did. Today, we're seeing a more stable market." That market still seems to be favoring single-engine pistons as core movers. "Where we're taking the hardest hit is in the higher end," he adds. Venerable airplanes, like Cessna 172s, 182s and Bonanzas, are still the airplanes that are moving.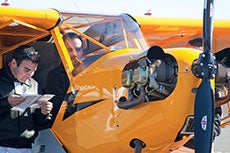 The LAMA anticipates deliveries upward of 400 LSA in 2011, which is more than double last year's numbers.
To give an illustration of the state of the sales market, Feldman explains that sellers today have dropped their asking price to historic lows. The problem is buyers don't realize that, and they still consider that because it's a "buyer's" market, any offer is valid. Feldman sees that as hurting both buyers and sellers. "Buyers will take the asking price, and then offer $35,000 less. The seller gets emotional about and just says, 'Forget it.' Buyers don't realize that asking prices are a lot less than even a few years ago. They're as low as they're going to get."
Murry Malsbury is an aircraft broker in the Northwest, based out of Seattle, Wash. His segment of the market is slightly different, since he sees a lot of seaplane sales for the region, as well as more tailwheel and work airplanes for Alaska. Still, his view of the market is similar. "I'm seeing prices that were maybe half of what they were last year," says Malsbury. "The airplanes that are moving are 172s, 182s and those that have modern avionics." Malsbury agrees that prices are as low as they will ever get. "They are rock bottom. There really aren't any more desperate sellers."
Page 1 of 3