Tuesday, April 10, 2012
The Americanization Of Alto
There's a mod for that—making the perfect plane, Ron-Corbi style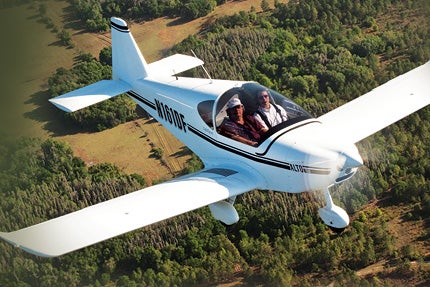 The all-metal Corbi Air Alto 100 is powered by a 100 hp Rotax 912 ULS and cruises at 110 knots. Air-conditioning is offered as an option.
The Corbi Air Alto 100 is a bit of a sleeper. While not the sleekest-looking S-LSA out there, its GA-traditional, Piper-ish appeal goes way, way beyond mere looks. In addition to an all-metal rugged airframe, Alto comes in three basic flavors and offers optional air-conditioning, a true fun-flying persona and a refinement ethic aimed at making it the perfect S-LSA for the U.S. market.
Although already a mature, well-tweaked European airplane, U.S. importer/dealer Ron Corbi and crew have relentlessly—you could even say with messianic fervor—so Americanized the low-wing flivver that it's more like an aircraft that has been here for several years, rather than recently imported.
Built by Czech company Direct Fly, the airplane debuted a few years back overseas. Meanwhile, Corbi and his brother Dennis, having sold and serviced other S-LSA and GA aircraft from the Salem, Ohio, dealership their father founded 50 years ago, wanted to create the ideal flight-school airplane.
"We flew the original, made in Czech Republic," says Ron Corbi, "and found it to be very docile. It doesn't try to go upside down on you in stalls; it's not going to get a student in trouble; it's very easy to land, very rugged, very strong. Another popular low-wing LSA has seven ribs in the wing; Alto has 11. So, we looked for things like that."
A key question for Corbi: How responsive would the manufacturer be to modification requests?
"I'd sold some 40 LSA, but found it difficult to get changes made by the factory," he says. "With Direct Fly, I get on the phone and they say, 'Will do.' Then they do it! It's really great."
First Things First
My bottom line for flight reports begins and ends with how well the airplane behaves in the air. Does it return me to the ground feeling like a low-time doof, or bestow Patty Wagstaff-like confidence? Do its cockpit ergonomics require study, or does it feel familiar in its control and switches layout?
Though I try not to let my preload of prejudices influence my evaluations unduly—airplanes fit different folks in different ways—sometimes I climb out of a cockpit feeling like I never fully synced-up with the bird. Other times, an airplane so well fits my sense of well-being, I immediately wish I could book a second date. LSA like the Remos GXNXT, Gobosh, Legend Cub, Pipistrel Virus and a few others come to mind as my ideal of the friendly, superbly crafted, well-harmonized fun ship.
Page 1 of 5