Tuesday, April 10, 2012
The Americanization Of Alto
There's a mod for that—making the perfect plane, Ron-Corbi style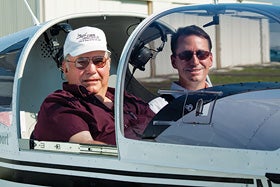 Ron Corbi, left, President of Corbi Air, and team member, ex-Navy pilot Paul Volle, have 49 years of professional piloting experience with the company.
The Alto 100 joins that crème de la crème grouping: It's as pleasurable to fly as any S-LSA I've met in four years. And coupled with Corbi's firm determination to continually refine it, this is one of those birds that buyers shouldn't overlook. In particular, Corbi Air's prime target—flight schools—should find this airplane an attractive addition to the fleet, given its $114,000 price tag, fully loaded panel and training-optimized feature set.
Hopping Aboard
Alto's cockpit is plenty roomy at 43 inches, and agreeably appointed with a Dynon SkyView holding center stage. The flight-school version boasts a Garmin G3X system as standard equipment, same as the Cessna Skycatcher—but priced $21,000 less.
While the seat would benefit from a tad more padding, Corbi characteristically promises a memory-foam upgrade soon. Meanwhile, the interior is attractively finished, tidily appointed, well organized, and the stick controls (dual, with PTT), knobs and switches are placed right where you'd expect them.
The orderly panel leaves plenty of legroom for the (pending) adjustable rudder pedals with toe brakes. A push/pull throttle has a friction lock instead of a vernier-style center push-button. Nice.
Avionics packages are truly BK-style, "Have it your way." Corbi says panel faces can be custom cut to a customer's wishes during construction for just $50. In addition to the SkyView and G3X EFIS displays, Garmin's SL40 comm radio and GTX 327 digital transponder, PS Engineering's PM3000 intercom, built-in GPS and TruTrak autopilot are mainstays, while dual-panel installs also are possible.
Keeping Your Cool
Corbi Air commissioned an aerospace company to design and build its optional hybrid auto-style air-conditioning unit, which drops cockpit temps more than 20 degrees F. "We sell them for any aircraft, not just the Alto," says Ron Corbi. The unit, which adds 35 pounds, mounts behind the seats and directs air forward along the overhead curving canopy and back toward the occupants.
That extra weight includes a Rotax-approved, supplemental, belt-driven, 85 amp alternator, and makes the firewall-forward installation a dual-alternator setup. And Lycoming and Continental-powered LSA won't need the extra alternator—which saves 15 pounds.

Corbi calculates air-conditioning will help keep occupants from cooking their noodles. Heat stress is a performance-compromising challenge for any pilot.

"It's a full-blown, electric-powered, Freon-based system, like in hybrid cars," says Ron Corbi. "We used it last summer, and it worked well, especially taxiing around, and even at engine idle."

Rotax engines idle near 2,000 rpm. That's plenty for the A/C, since the alternator is slaved to sync with engine speed. To make room for the second alternator, Direct Fly extended the cowl three inches, giving it a more appealing look.

Corbi adds that air-conditioning only costs about two horsepower in engine performance. Still, pilots are advised to switch off active cooling during takeoffs and landings for maximum available power. For more info on the A/C, visit www.amt-aero.com/flycool.html.
Page 2 of 5