Tuesday, April 10, 2012
The Americanization Of Alto
There's a mod for that—making the perfect plane, Ron-Corbi style
Popping Upstairs
The Alto 100 is, simply put, one really fun airplane in the air, and as easy to land as any LSA I've flown. The soft, bump-swallowing, strong fiberglass gear is a natural for flight schools, and lifts the aircraft a notch above many of its competitors.
Rolling down the taxiway to takeoff, steerable nosewheeling is just right: neither twitchy nor sluggish. Takeoff was a surprise: At 43 knots, in a slight-left crosswind on a brisk fall day, we hopped nimbly off the runway at one notch of flaps, locking right into a solid 70-knot climb.
Stick handling is pure joy: as sporty and fun as a Remos GX or Gobosh 700, as gentle in landing as a PiperSport/SportCruiser—and without that airplane's sensitive pitchiness. Alto feels as stable and solid in the bumps as my cross-country favorites, Flight Design's CTLS and Evektor's Harmony. In short, its basket of positives makes it a significant all-around challenger to many leading LSA.
Landings are a dream. I greased on my first attempt with minimal coaching from Ron Corbi (a veteran airline captain). It's easy to set up a nominal glide and it almost lands itself. And its springy composite gear soak up piloting peccadilloes with aplomb.
MINI FLIGHT GEAR BAG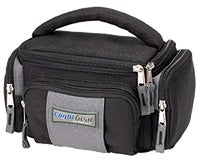 One accommodation Alto 100 and most other LSA owners must address is how to bring along essentials without overflowing the baggage space, especially with Corbi's air-conditioner taking up some of that behind-seat space.

Sporty's Pilot Shop, one of my favorite places to catch up on what I've been missing in the aviating-gear world, has a nice, padded GPS case that can be commandeered for other carry-along duties, as well.

The Mini Flight Gear Bag is specifically padded to protect expensive portable GPS devices without taking up a lot of cockpit real estate. This purpose-built carry-along, with its 71⁄2x41⁄2-inch center compartment, will cradle most modern GPS, such as Garmin GPSMAPs up to the 496 model, as well as the 96/96C; Lowrance's 600C, 2000C and 1000; and AvMap's GeoPilot, GeoPilot II and EKP-IV.

The liner is made of soft, no-scratch material, and has an elastic strap to keep everything safe when you hit the bumps in the air or in the car. There are three zippered exterior pockets for accessories such as removable antennas, power cables, mounting hardware and such.

Overall dimensions: 91⁄2x6x5 inches: big enough to carry and organize, small enough to fit under seats, too. Sporty's sells it with a six-year warranty for $24.95. Visit www.sportys.com.
Page 4 of 5