Tuesday, March 23, 2010
8GCBC Scout: Up In Flames
The Scout Aims for a Firefight

www.amerchampionaircraft.com), to see the company's stalwart 8GCBC Scout do its Elvis impersonation—as in Elvis the famous firefighting S-64 Aircrane water bomber." />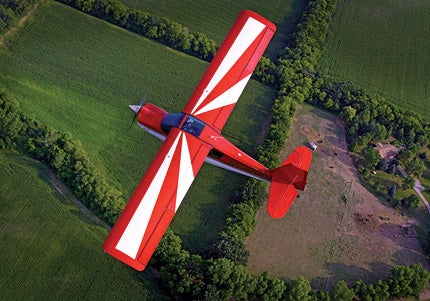 The Scout Water Bomber can carry 100 gallons of water and has an infrared enhanced-vision system, enabling pilots to see through smoke and deliver water where it's needed. It can reach confined areas that larger firefighting aircraft can't access.
I was standing beside the runway at Fox River Airport in Rochester, Wis., home airport to American Champion Aircraft (
www.amerchampionaircraft.com
), to see the company's stalwart 8GCBC Scout do its Elvis impersonation—as in Elvis the famous firefighting S-64 Aircrane water bomber. A call on a handheld confirmed we were in position. From the north, Jerry Mehlhaff Sr., the company's owner and president, came boring in on the centerline in N125WB, the prototype Scout "Water Bomber," dropping to about 150 feet. Just past the threshold, he released 100 gallons of water from its belly. The 800 pounds of liquid hit the runway with a loud slap, soaking an area about the size of a football field.
Can 100 gallons make a splash in aerial firefighting, where blazes can cover tens of thousands of acres? One is tempted to tell the trusty Scout, "Don't quit your day job; no shame in simply being one of the world's premier bush planes." Despite the existence of such big bombers as Elvis and Evergreen International's 747-200 Supertanker, back on the ground, Jerry Sr. made a case for using light aircraft as first responders "so they can get the fire when it starts, when it's five acres or 10, not 5,000 acres or to the point when you need a 747 to try to slow it down."
Inside the company's offices, on the back of a hangar and across from American Champion's three production buildings, Jerry Sr. told me, "The intent is to have airplanes close to the fire, and have them fly in groups of five or six. If there's no airport nearby, the state patrol can block off 3,000 feet of highway, bring a tanker truck in, fill the airplane in less than two minutes. Every airplane could make five or six drops an hour."
The Scout Water Bomber was conceived by Steve Green, a design engineer and former race-car driver from Canton, Ohio, who had been developing a light firefighting aircraft when he came across a Scout. "I said, 'This thing has great flight characteristics. This actually could be the platform,'" Green recounted. He contacted Jerry Sr., went to the factory, talked to the staff engineers, "and the next thing I knew, he built this aircraft, and it is exceptional."
The Scout's potential as a firefighter aside, the two-place, tandem taildragger already has earned its props in more than 35 years of service: It's prized by private owners, commercial operators and public agencies alike as a rugged, land-anywhere, STOL workhorse. The basic aircraft has changed little during that time, but a variety of improvements, upgrades and options make today's Scout far more user-friendly and capable than when it debuted in 1974. Its continued popularity is a testament to both the original design and the current management of this family-owned enterprise. Jerry Sr.'s former wife, Charlene, is the company's vice president; their son, Jerry Jr., an aerospace engineer and FAA-certified DER (designated engineering representative), is the company's head of engineering. And with five aircraft models in production in addition to the Scout, certification of the Water Bomber is just one item on the company's to-do list.
Page 1 of 4