Tuesday, March 23, 2010
8GCBC Scout: Up In Flames
The Scout Aims for a Firefight

www.amerchampionaircraft.com), to see the company's stalwart 8GCBC Scout do its Elvis impersonation—as in Elvis the famous firefighting S-64 Aircrane water bomber." />

"You're never stuck doing the same project over and over again," said Jerry Jr. about life at American Champion.

Their airplanes come from good stock. The Scout and other American Champion aircraft all descend from the classic 7AC Aeronca Champion (Champ), introduced by the Aeronca Aircraft Corp. of Middletown, Ohio, in 1945. Champion Aircraft (no relation to American Champion Aircraft) bought the Champ design in 1954, three years after production ceased, and from the Champ, derived the aerobatic 7ECA Citabria (which is "airbatic" spelled backward). In 1970, Bellanca Aircraft Corp. acquired Champion Aircraft and subsequently introduced two new models based on the Citabria: the 8KCAB Decathlon and, in 1974, the 8GCBC Scout. (The alphanumeric model designations defy simple explanation, or even understanding. "I don't know how they came up with KCAB," Jerry Sr. said during a discourse on model taxonomy. "It's so confusing.") Bellanca ended production in 1980, and the line went through a series of owners before Jerry Sr. bought the rights in 1988 and resumed production in 1990 under the American Champion Aircraft banner.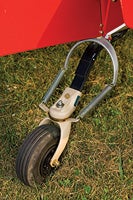 The 8GCBC's all-aluminum frame yields improved strength, performance and longevity.
I've spent hours of Scout time over rugged Western landscapes, landing on buttes, prairies and dry riverbeds. Flying a wildlife population survey in the Badlands of North Dakota, every bowl and draw in the survey area had to be scoured for deer, mountain goats and stray bison. That meant lots of yanking and banking in slow flight very close to the deck, as well as quick climbs over sharply rising terrain. A Scout is one of the few planes you can trust with that kind of flying.
The Scout Water Bomber will be a far different ride. The back-seat area is taken up by a formed plastic bladder for water and fire retardant. Gross weight will be 2,600 pounds, 450 pounds above its utility-category max weight. The bomber also has a flying tail that's 25% larger than the certified Scout's, to compensate for the aft CG loading. Though cutting edge in its own way, it does not represent the contemporary utility-category Scout. Fortunately, a brand-new production 8GCBC was in the hangar in front of the offices, awaiting delivery to a dealer.
From the outside, N101RA looks like a Scout of any vintage, with its squared-off front end, the straight lines of the sides, belly and vertical fin, and the simple spring gear struts. It stands on aluminum legs, which became standard in '06, replacing the original steel gear. The new struts save 35 pounds and incorporate internal brake lines. Today's Scouts also can be fitted with Alaskan Bushwheel's Tundra Tires of up to 36 inches, which open soggier, rougher ground to the Scout, and increase the wing's angle of attack during takeoff and landing, boosting STOL performance.
The wings themselves represent the biggest if least visible difference between legacy Scouts and American Champion's version. Bellanca used wooden spars in the wings; American Champion's Scout has all-aluminum frames, yielding more strength, better performance and increased longevity. (Aluminum-frame wings can be retrofitted on older Scouts.)
On the fuselage aft of the cabin, a baggage door opens to a more recent improvement: an optional extended rear baggage area introduced in '07 that adds 36 inches and 30 pounds of cargo capacity.
Page 2 of 4