Tuesday, March 23, 2010
8GCBC Scout: Up In Flames
The Scout Aims for a Firefight

www.amerchampionaircraft.com), to see the company's stalwart 8GCBC Scout do its Elvis impersonation—as in Elvis the famous firefighting S-64 Aircrane water bomber." />

The Scout comes standard with a two-blade, 76-inch Hartzell propeller, but choices have grown over the years. The three-blade, 72-inch Hartzell, which provides more ground clearance, has become a popular option since it was introduced in the mid-'90s, and weight-saving two- and three-blade, wood-core, composite MT propellers were added to the list of approved props in 2003.

What most distinguishes the modern Scout from its predecessors is the panel. Mind you, Scouts have sported digital avionics since the late 1990s, and customers can order custom packages—but digital engine monitoring and glass technology have been added to the mix. In 2005, J.P. Instruments' EDM-930 became an option. From the left side of the panel, it tracks rpm and manifold pressure, fuel flow, electrical-system health and engine temperatures, and flashes alerts if parameters are exceeded. In 2008, Aspen Avionics' Evolution EFD1000 PFD was certified in the Scout, turning it into a true glass-panel platform. Among other benefits, the optional Aspen installation saves about 11 pounds over the vacuum gyro system it replaces. When all potential weight savings are taken into account, the Scout has dropped some 55 to 60 pounds of empty weight in recent years.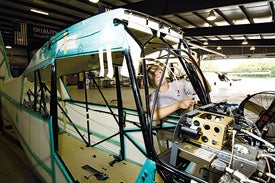 After taking the Scout out of the hangar, we completed its preflight. The interior is nicely appointed with carpet and fabric and vinyl sidewalls. An optional wide rear bench seat, a Bellanca-era upgrade (quickly removable for extra cargo room), adds to the comfort. The throttle, prop and mixture controls are on the bottom left side of the panel. We primed and cranked the engine, and Jerry Sr. and I taxied to runway 1.
The Scout is powered by a 180 hp, carbureted O-360 Lycoming. The carbureted engine is less expensive than a fuel injected one, and most pilots who operate Scouts on floats prefer them because of concerns about vapor lock during hot starts associated with injected engines; few things are worse for a float pilot than being adrift on the water with a flooded engine.
On the takeoff roll with two notches of flaps (15 degrees) and 2,700 rpm at full throttle, the tail came off the ground at about 40 mph; we rotated at 45 mph and were airborne by 50 mph. At a 70 mph indicated climb, the VSI bounced around 1,100 fpm, and the Aspen PFD, with its airspeed and altitude tape readouts, made quick scans of the panel more productive than darting glances at steam gauges.
We leveled at 2,000 feet MSL and powered back to 24 squared, about 75% power, and let the airspeed build up. It reached about 130 mph indicated at a 10.4 gph fuel burn. That's solid cruise performance for a STOL airplane, highlighting the wide operating envelope that has helped make it a success.
Page 3 of 4