Tuesday, March 23, 2010
8GCBC Scout: Up In Flames
The Scout Aims for a Firefight

www.amerchampionaircraft.com), to see the company's stalwart 8GCBC Scout do its Elvis impersonation—as in Elvis the famous firefighting S-64 Aircrane water bomber." />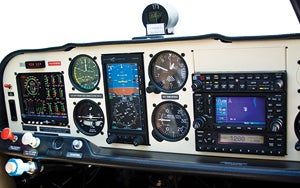 The checkerboard farmland of southern Wisconsin spread out in all directions below. The verdant fields made it hard to imagine a landscape covered in flames, or envision a Scout swooping in to the rescue. So I pulled the stick around as if I was flying knife-edge along a ridge, and maneuvered as if dodging towering flames to reach my drop point. But instead of demonstrating some firefighting capacity, N101RA's response simply reminded me of the Scout's nimble and fun-to-fly characteristics. Poking about the countryside, we moseyed over to Burlington Municipal Airport, a few miles southwest, and entered the pattern for runway 11. With light winds and 4,300 feet of runway, the landing was low on drama, but with three notches of flaps, the Scout demonstrated its excellent visibility over the nose on final.
After returning to Rochester, Jerry Sr. briefed me on the next upgrade for the Scout: Forward Vision's EVS-100 infrared enhanced-vision system, expected to soon be certified for installation. That will add even more capability to its bush operations and also make the Water Bomber a more effective tool. "We can pick flames out through smoke or firemen surrounded by flames," Jerry Sr. said.
As certification work continues on the aircraft, agencies in California, North Carolina and other states, eager for an effective and economical aerial firefighter, have expressed interest. The estimated operating cost is $150 per hour, including pilots' pay ($40), while even a small firefighting helicopter, noted project architect Green, "costs $2,500 to $3,000 per hour; you can operate 20 Scouts for that."
Jerry Sr. and I went flying again later that afternoon. The last landing was on turf at Rochester, between the paved runway and a cornfield. The Scout felt like it was luxuriating in its natural element as it trundled across the thick grass on rollout, rekindling my memories of alighting on rugged ground out West. And after getting reacquainted with the 8GCBC, I was sure it could handle anything asked of it, including performing as a professional Water Bomber and making people forget all about Elvis. Indeed, rather than a karaoke-caliber imitation, perhaps the aircraft could become the aerial firefighting world's latest flame.
Page 4 of 4