Tuesday, March 22, 2011
Dreams Of Ownership Fullfilled!
An exhilarating morning flight with a first-time owner in a factory-new airplane
I love orange. It's the color of excitement and adventure. In 1910, when William S. Harley and Arthur Davidson decided to design a logo for their then-fledgling motorcycle company, orange was the color they chose. And when rockabilly great Eddie Cochran belted out "Summertime Blues" from every AM radio station in the country in 1958, that incessant guitar lick came from an orange, model 6120 Gretsch guitar—one of the most recognizable in rock 'n'roll history. Even nature reserves orange for only the most special of offerings: sunsets, habanero peppers, clown fish and Cheetos. An orange airplane, then, is really something.
The Super Decathlon has a storied history, and part of the airplane's considerable charm comes from that lineage. First conceived in 1970 by Champion Aircraft Corporation, the Decathlon 8KCAB was a derivative of the company's famous Citabria (that's "airbatic" spelled backward). It was created as a stronger and more capable airplane that could handle outside maneuvers and extended inverted flight. The Decathlon featured an inverted fuel and oil system and a major redesign of the Citabria wing, resulting in a semi-symmetric airfoil that gave it far better inverted performance. Bellanca Aircraft Corporation bought Champion Aircraft in 1972 and sold a smattering of Decathlons through 1976, before adding a more powerful 180 hp engine and other improvements, resulting in the Super Decathlon. The design went through several manufacturers' hands throughout the '80s aircraft sales slump, and was eventually acquired by American Champion Aircraft in 1990, where it has been in production ever since.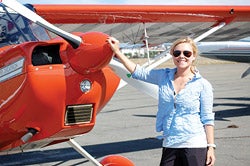 This particular morning, I was to meet Super Decathlon owner Michelle Kole, who had just taken delivery of her beautiful orange 8KCAB, complete with sunbursts and invasion stripes. Too often, we writers take an airplane up with a demo pilot, go through the specs, and perform a list of maneuvers from our notepads, then come back for a few touch-and-goes. For me, it's hard to find the "soul" of the airplane that way. But this time we had a mission, and it was a good one because it involved food and scenery. We were flying some 130 miles south along the Pacific coast from Santa Monica, Calif., on a quest for the best vegan potato tacos anywhere. I'm not even vegan, but the thought of something new was enticing.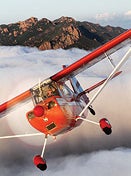 Like its seminal cousin, the Aeronca Champ (Champion Aircraft acquired the Champ design in 1954), the Super Decathlon is a tandem aircraft with stick controls and a tailwheel. One major difference between the "vintage" Decathlons and the newer ones is the aluminum wing spar that replaced the original wood spar. Today's Super D is still made with fabric-covered metal tubing, and sports aluminum landing gear instead of spring steel. Like the 1940s Champ, the Decathlon retains the triangular welded fuselage truss, giving it proven strength and rigidity.
When Kole had me roll open the door to the vintage-era hangar and I saw her factory-fresh Super D for the first time, the effect was magical. Its burnt-orange color contrasting against the velvet blue of the morning sky gave it a decidedly retro look, and Kole had the good taste to add white upholstered seats, making the airplane look fabulously classic.
Page 1 of 5