Tuesday, March 22, 2011
Dreams Of Ownership Fullfilled!
An exhilarating morning flight with a first-time owner in a factory-new airplane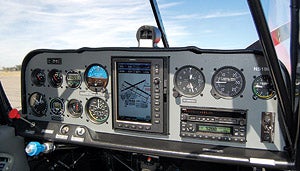 The Garmin 696 with solid-state ADAHRS and a fully capable panel makes the Super Decathlon both an aerobatic and cross-country platform.
The $100 Taco
Climbing into a Decathlon happens from the wide single door on the right side. Access is generous, and larger pilots would find it easy to get into. The 30-inch cabin width feels expansive, even in the rear seat. Of course, this being an aerobatic aircraft, the visibility is fantastic. I notice that the deck angle is relatively low for a taildragger, and find that even us smaller pilots can see pretty well over the panel with a cushion or two. That's a bonus on landing, and may be one reason why Decathlons are considered one of the easier tailwheel airplanes to land. With electrical switches on a side panel overhead, visibility to the front and sides is uncluttered, and the overhead window adds a huge chunk of sky to the view. Taxiing with S-turns is easiest, though taller pilots can just peer over the nose without it.
Takeoff is comfortable and quick, with the tail coming up in 400 feet or so, and the wheels coming off at about 56 mph. It's intuitive having a stick in your right hand and a throttle on your left, so control comes easy and feels natural. This Super D is new, and it sticks to the book numbers pretty closely, giving us an 1,100 fpm climb at 75 mph with a nose angle of about 18 degrees. We're pushing a little harder than usual to accommodate the Los Angeles Class B airspace requirements. The book says max climb rate is 1,280 fpm.
Though everybody thinks of the Super Decathlon for aerobatics, it becomes apparent that this also is a fine cross-country machine. The seats are comfortable, and with the exceptional visibility and 145 mph cruise speed at 75% power that I'm seeing on the panel, the Super D delivers a great long-distance ride. Fuel consumption is typical, ranging from just under 8 gph when leaned at altitude, to 11 gph and greater when flying low and pushing for a little speed.
As we settle into cruise, Kole tunes in some '80s rock on XM radio. With Loverboy reminding us, "Everybody's workin' for the weekend," I take the stick and get to savor the wonderful handling this airplane is known for. I find the controls as light as the tendrils of egg white in a delicate soufflé, though Kole likes to call them "crisp and twangy." While an Extra 300 does have lighter stick forces, it's not fair to compare this airplane to that or to a Pitts, because it's not meant to be those airplanes, and it doesn't need to be.

Looking out on the tarmac, our Super Decathlon sits ready to pounce, like a new kitten eyeing a feather on a string. It's an airplane that evokes the past but
sits in the present.

Flight instructors long ago discovered that the Super Decathlon is a supernal aerobatic training platform because of—and not despite—its draggy design and power loading. Kole—who's a CFI and is training for aerobatic competitions—agrees. "What I love about this airplane is that it makes you work for it. It teaches you to be a good aerobatic pilot because you can't just power through maneuvers." Kole is talking about energy management; it's a concept that Super D pilots learn early.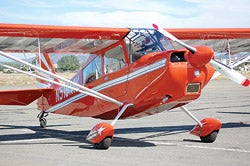 The Super Decathlon has a power loading of 10 lbs./hp. That means you can't rely on power alone to motor you through sloppy maneuvers. Instead, the Super D teaches pilots finesse and precision and turns out—most agree—a better pilot as a result. In comparison, a Pitts S2C has a power loading of 6.25 lbs./hp, while the Extra 330 has a power loading of 5.7 lbs./hp. "You can get sloppy with the rudder in a Pitts or an Extra, but the Decathlon won't let you get away with that," Kole adds. "It just won't do what you want it to."
Another strength of the Super Decathlon is its benign handling characteristics; the airplane doesn't have any scary surprises up its sleeve in any flight regime. Loops and rolls are a joy and easily executed with minimal G-load (4 in a typical loop). Stalls are straight ahead with no tendency to break off to either side, and spins are fast but easily recoverable with deliberate, positive elevator input. This is an honest airplane that doesn't let students get away with sloppiness, but doesn't scare them into submission. It's gentle and fun—a whole lot of fun.
Page 2 of 5