Tuesday, March 22, 2011
Dreams Of Ownership Fullfilled!
An exhilarating morning flight with a first-time owner in a factory-new airplane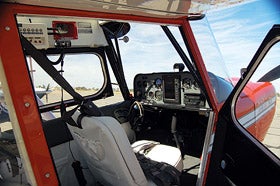 The Super Decathlon is flown solo from the front seat, and the wide door and low deck angle make getting in and out an easy maneuver.
With the delicious potential of good tacos filling my mind, I was ready to land. The Super D is as docile as expected, with good visibility over the nose and no nasty tricks when transitioning to the runway. Kole prefers a hybrid technique that's a combination of a three-point and a wheel landing, as you would land a DC-3. It keeps visibility good throughout the flare. Even hampered by a pretty good crosswind at Montgomery field near San Diego, the Super D takes it with aplomb. That's another reason why you'll see Decathlons just about anywhere that offers tailwheel training; it's a solid teaching platform with predictable handling.
The 8KCAB has a base price of $164,000, so it's within reach of pilots who want aerobatic thrills and a good airplane for longer trips. It gives you nearly the same aerobatic bang as some other airplanes in this category that hover in the half-million-dollar area. As usual, there's a vast array of options, and the airplane comes well equipped with a Lycoming AEIO-360-H1B 180 hp engine, inverted fuel and oil systems, a Hartzell constant-speed, 74-inch propeller (Kole's has the two-blade MT prop), and a 370-pound payload capability with full fuel in the Normal category.
Back at Montgomery, Kole and I are sitting down to the long-anticipated meal with a view across the runway. Potato tacos may sound strange outside of California, but they're flavorful beyond measure. Looking out on the tarmac, our Super Decathlon sits ready to pounce, like a new kitten eyeing a feather on a string. No nostalgia toy, it's an airplane that evokes something from the past but sits squarely in the present.
Mission Complete
I took the controls for takeoff. Montogomery is tricky because of the complex airspace—both civilian and military—all around it, so I try to remain focused while Kole gives me the lowdown on what to expect. We roll down the runway, and the takeoff is a breeze.
"Thaaat's it. Nice. Okay, that looks good," says Kole in a vocal tone I hadn't yet heard on our flight. "Oh my gosh," I chided her, "You just used your instructor voice!"
"No, I didn't do that. What are you talking about?"
"Yeah, you did! That was awesome," I shot back. "It was like I was 16 years old back in the Cessna 150."
Of course, Kole had reverted to her instructor role, talking me through the takeoff. It was nice to be in student mode again, and I appreciated her guidance, even though I chivvied her about it on the way back. The Super Decathlon is that kind of airplane; as happy doing takeoffs and landings as it is upside down or powering through an outside loop. For many pilots, the Super D is an end in itself; not a stepping stone.
Page 3 of 5