Tuesday, March 22, 2011
Dreams Of Ownership Fullfilled!
An exhilarating morning flight with a first-time owner in a factory-new airplane
So You Want To Own A Plane?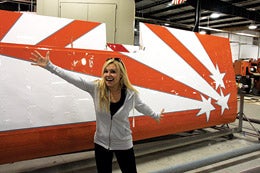 Michelle Kole was a first-time airplane buyer with a changing mission and a wide variety of aircraft on her short list. A chance opportunity led her in a different direction from her original buying plan, and she ended up purchasing a new American Champion Super Decathlon from the factory. We talked to Kole about what it's like to become a new aircraft owner, and the scary and exciting moments along the way to fulfilling her dreams of ownership.



Q.

Tell us about how you chose the Super Decathlon.


A.

I knew I wanted to be an airplane owner. There were so many choices and it was confusing; nothing out there was speaking to me. I was all over the place as far as the types of airplanes I thought about buying. I considered a Beechcraft Baron, a Cessna 182 and a Bonanza, among others. I knew I really wanted to own an airplane.



Q.

Did you have a specific mission in mind?


A.

It kept changing. I knew I wanted something I could eventually instruct in, and I knew I would be going places with it. But I didn't really have it narrowed down to a specific mission.



Q.

How did you end up with the Super Decathlon?


A.

I was selected to be in a documentary called AcroCamp that filmed during the time I was shopping for an airplane. In that film, I flew a Pitts, Citabria and a Super Decathlon; it was my first time in each. I had never thought of flying a taildragger before—it just seemed too difficult. But I eventually soloed the Citabria, and I really liked it. I felt like I could handle it. The Super Decathlon seemed too challenging. But I knew I could grow with the Super D. I found out the price was right; I could buy a new one for about half of the other airplanes I was considering. I ended up flying about eight hours in the Super D during filming for the movie, and I decided that's what I wanted.



Q.

Did you have any special criteria in choosing an airplane?


A.

I had to know where the airframe had been—and had not been! Buying a new airplane made that easy. Also, the Super D is safe and predictable, and it feels that way to me. The main thing is that it requires you to be a good aerobatic pilot to make the figures look nice. You have to work for them and actually fly the airplane. The Super D is also a comfortable airplane; it's fast enough for my trips. It's the perfect airplane for me.



Q.

What was the actual buying experience like?


A.

I was a first-time buyer, and I really didn't know how to buy an airplane. I started at the American Champion website. There I found a dealer—Bob Hannah and Kasey Lindsey of Northwest Backcountry Aircraft in Caldwell, Idaho—who were tremendously helpful. I could not have done it without them. They were amazing. They answered all kinds of questions, helped me select what options made sense and which ones didn't, and just guided me through the whole process.



Q.

What was the most difficult part of the buying process?


A.

Choosing the paint scheme and waiting for the airplane to be delivered! I don't have that female gene that knows what colors look good together. Plus the color samples they give you aren't real paint, so it was really hard. As far as waiting, I put my deposit down in May or June, hoping to get in on the July manufacturing "slot"—they make about four airplanes a month. But I didn't get the airplane until September due to a bunch of issues that weren't the dealer's fault: UPS had damaged a replacement cowling after the original cracked when they flew the airplane from the factory to the dealer. The third one (cowling) finally made it. All that time, the airplane was just sitting in Idaho. Bob and Kasey took a week to fly it and get everything tweaked until it was just right. They made sure it was ready for me.



Q.

Tell me about taking delivery of your airplane.


A.

I just couldn't believe that this beautiful machine was mine! I couldn't stop looking at it; I don't have kids but I did baby-talk to it, and I just couldn't believe it! I flew commercial to Idaho with a friend that was supposed to ride back with me and teach me the Garmin 696, but he ended up sleeping the whole way.



Q.

Were there any surprises?


A.

Aside from the process taking longer than I thought, and the whole cowling debacle, the cost is something I should have looked at more carefully. The initial pricing was low, but you got a very basic airplane for that. It seemed there were a lot of options that maybe should have been standard, and the price crept up. Oh, and I just got the tax bill, and had to have my friend who is an accountant look at it because I was so shocked.



Q.

What is it like being an owner for the first time?


A.

The flight home taught me a lot of things. With all the stuff they give you with a new airplane, and with my passenger and everything, we were at max gross, and the airplane flew completely different with all that weight in the tail. Plus I was out of my brain with excitement—I don't know—and I didn't do weight and balance, which I now realize was dumb of me. The first landing, the tail swerved more than I was used to, and I almost lost it. Later, the engine quit a few feet off the ground because the mixture had been adjusted too lean at the factory based on their "best guess" for sea level. The airplane felt completely different from the one I had flown. There were a lot of things that kind of discouraged me and I thought, "I'm not sure I can fly this airplane." But when I got back, I grabbed an instructor I trusted and made him fly with me until I regained my confidence. It's part of the whole buying experience, I think.



Q.

Has owning this airplane changed your flying habits?


A.

Absolutely! I fly more often. I feel surer as a pilot and I learn more about my airplane every day. I know what my engine sounds like—what's normal and what's not. Good pilots say the airplane will eventually fit like a glove and become an extension of you. I don't know if I'm there yet, but I feel like
I'm getting to know my airplane's personality. I don't know how to describe that feeling, but it feels good.



Q.

Any advice for those who are thinking about buying?


A.

Do your homework. Take time to look into the airplane you're considering. Learn about it from owners' groups or others who already own one. Owning your own airplane is an amazing feeling. I was out there today with the sun and the clouds and I thought, "It doesn't get any better than this." I think that's pure happiness.
Page 5 of 5