Tuesday, February 9, 2010
Arion Lightning LS-1: Smokin' Lightning
An all-American speedster that flies as fast as the law allows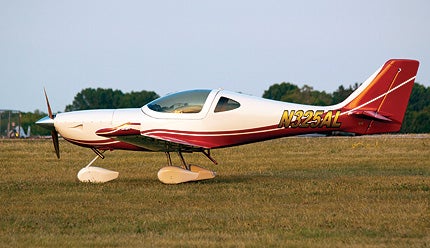 Produced by the same team responsible for the Jabiru series of S-LSA, the composite Lightning LS-1 is an aesthetically pleasing aircraft that offers high-performance handling capabilities.
The first one I saw was gorgeous, even bare of paint accents. That Arion Lightning prototype looked undeniably smooth and, well, fast as lightning. Pilots are inspired by lovely flying machines, and on the factory ramp in Shelbyville, Tenn., was one of the most fetching examples of an LSA I had ever seen.
Arion Aircraft's Lightning LS-1 (
www.flylightning.net
) isn't new. Indeed, in three years, the company has sold 80 kits, and 40 already are flying. Now comes a ready-to-fly airplane, an all-American flying machine that's able to hit the LSA max speed of 120 knots (138 mph). The Lightning's smokin' fast speed, however, is just
one
measurement of its appeal.
Wherever it goes, the Lightning gathers admiring glances. That's no surprise, as it's an amalgam of the former Esqual from Spain with touches of Van's RVs, the Aerospool Dynamic, various Lancair models and the also-Spanish Toxo LSA—each as shapely as a fashion model.
The Dawn Of Arion
Arion Aircraft consists of the same team responsible for the successful Jabiru series of S-LSA. Those fully built aircraft are the product of an Australian kit and American assembly process that morphs a crate-full of kit parts into a ready-to-fly airplane. Jabiru's success is notable in that, in just a couple years, it has arrived at a #8 position in the market. [Read "
Jabiru 230: Heart Of Gold
" from
P&P
Dec. 2008.]
Arion's tale is sure to be passed on to grandchildren: One night, while sitting around a campfire at Brennand Field, Jabiru's former base, near Oshkosh, Wis., the Jabiru brain trust—Pete Krotje, son Ben and Nick Otterback—discussed a new airplane concept with several friends and supporters. The trail was a winding one, but in time, it led to the low-wing Lightning.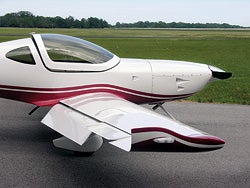 "We're not an engineering team, but we have a lot of practical experience, and we applied that over time to create the Lightning," reported Krotje. The team did, however, hire outside engineering services to technically validate its concepts.
The results speak for themselves: The aircraft performs enthusiastically, requires only a light grip on the joystick and is priced agreeably. The campfire crew came through.
A Bolt Out Of The Blue
On my second visit to Arion's Shelbyville facility, I logged another hour aloft at "lightning speeds." Even on a lumpy, bumpy day, the Lightning slipped through the air and exhibited a grace you'd associate with a much more expensive airplane. Otterback's expression as I contoured through maneuvers told me something—as someone who does a lot of demo flights, he had seen my look of pleasure before.
After a year of hunkered-down work by the Arion team, the LS-1 earned its S-LSA airworthiness a few breaths before it was time to pack for Sun 'n Fun 2009.
Page 1 of 3