Tuesday, September 18, 2012
Husky Dawn Patrol
Aviat's new Husky and the Northern Idaho backcountry make a perfect pair
The early morning sunlight glinting off the crystal waters of Lake Pend Oreille (roughly pronounced "pond-o-ray") and reflecting back off our Husky's bright-yellow wing is too much for even my military-spec sunglasses to handle. The sky up here in Sandpoint, Idaho, is like a magnifying glass, and the sun is diffused by nothing but unpolluted air. It beams into my eyes like a laser. The vast shag carpet of tall pines below casts long shadows against the lake, and with nothing but unbroken forest around, the thought occurs to me that I have nowhere to go in an emergency. But then I remember the smiling dog painted on my tail and realize I'm in a Husky— the Willys Jeep of the backcountry.
Along with this Husky A-1C and its "new plane smell" (this one has just seven hours on the tach), the other star here is the land itself. Sandpoint, Idaho, is a jewel in the backcountry. A city of less than 8,000 people, it was voted the nation's most beautiful small town by
USA Today
. This quaint village of walkable streets, excellent local restaurants and lack of commercialism sits on the shoulders of Lake Pend Oreille, a vast expanse of some of the deepest, bluest lake water in the country. People here are friendly, and like the rest of Idaho, embrace general aviation for its utility and because it's the perfect aerie from which to see this breathtaking country.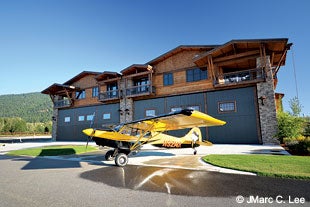 Silverwing is an 18-acre development with 44 exclusive lots at Sandpoint Airport in Idaho.
I'm here with
Plane & Pilot
Editor, Jessica Ambats, to spend some time getting to know these mountains while she photographs the newest Husky. Aviat has provided the new A-1C, and I'm anxious to learn how this remarkable airplane fits into this landscape. The Husky is built not far from here so it's a familiar sight in these skies. In an area where an aircraft could never get by on flash alone, the Husky has established itself as an indispensable tool in this land of verdant vistas and hidden backcountry strips.
Sandpoint will be our home base, with luxurious SilverWing Airpark acting as our "command center" from where we'll launch our adventures. SilverWing is an 18-acre development with 44 exclusive lots that lie on the west side of the runway, directly on Sandpoint Airport. Aside from the convenience factor of rolling out of bed onto a taxiway, buttering your biscuit to the sound of aircraft taking off while looking out over the majestic peaks of Schweitzer Mountain Ski Resort, just 15 minutes away, is tough to beat.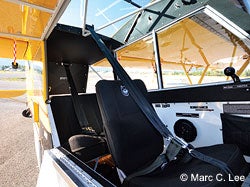 Aviat conducted considerable research in creating physiologically ergonomic seats that protect the occupant while reducing fatigue and increasing blood circulation.
Man's Best Friend
The year 2012 marks the Husky's 25th anniversary and brings with it some innovative enhancements. Longtime Aviat President, Stu Horn, isn't a person to sit on past accomplishments. A heckuva backcountry pilot himself, Horn knows what pilots need to get into and out of these challenging backcountry strips while maintaining a margin of safety. But his urban background and metropolitan sensibilities imbue Horn with a knowledge of what pilots are looking for outside of these craggy peaks and crooked sandbars. The result is that he's constantly tinkering with the Husky design, adding capabilities while also increasing the Husky's appeal with the non-bush-pilot crowd. Because of this, the latest Husky achieves that rare balance of an airplane that's equally suited to a week in the most remote backcountry imaginable, or a 600-mile nonstop jaunt to a business meeting in a shirt and tie. Few airplanes can make that claim.
Along with a slew of other enhancements, the big news for this year is a 50-pound increase in gross weight to 2,250 pounds and a new landing-gear option that adds independent shock absorbers to the bungee-cord arrangement, making a totally different landing-gear mechanism. The gross-weight increase means the useful load is somewhere around 925 pounds depending on configuration, with one of the most liberal CG envelopes out there. All of this simply means you can load the heck out of the Husky, without the CG sensitivity of most other airplanes like it. Nearly 1,000 pounds of people, fuel and gear in a two-place aircraft gives you a lot of flexibility.
Page 1 of 5