Tuesday, August 25, 2009
Rocky Mountain High: The Aviat Husky
With a new Garmin G600 panel, Aviat re-creates the Husky backcountry classic with modern comforts and capabilities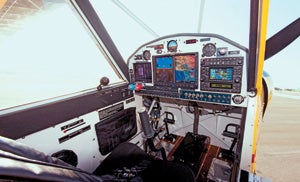 Aviat was the first manufacturer to offer the Garmin G600 glass panel on its new aircraft. A stripped-down version of the G1000, the G600 system provides the Husky with IFR capability.
Aviat produced its first Husky aircraft in 1985. Frank Christensen, designer of the Christen Eagle aerobatic biplane, conceived the Husky after trying to purchase the design of the famous Super Cub from Piper. Piper turned him down, so Christensen decided to start with the basic idea of the Super Cub and improve on it. Super Cub owners had long had a wish list of things they would improve if given the opportunity. Christensen took these ideas, applied computer-aided design (CAD) principles, and "supered" the Super Cub. The result, the A-1A, was certified by the FAA in 1987.
To understand the Husky, you have to understand the environment from whence it comes. Afton, Wyo., is perched at 6,100 feet in a wide valley that's part of the Salt River Range in the Bridger-Teton National Forest. Afton is one of 13 tiny towns that dot Star Valley on the far western edge of Wyoming and some 130 miles south of Yellowstone. People here go back several generations and are inextricably tied to the outdoors and beauty around them. The pace is slow, and the long winters give locals a patient and caring nature. The deep lapis skies are usually clear, and the air is bone-dry. It's a perfect place to build airplanes.
On my second day at Aviat, I received a Husky checkout, and it was my first glimpse into what this airplane could do. Above what seemed like an infinite blanket of the whitest snow you can imagine, factory pilot Steve Anderson led us into a small valley, lined with tall pines and small, rounded mountains. "That's where we're landing," pointed Anderson, his head nodding once. I looked out and saw nothing except a small path that led to some barns. "Where?" I inquired, trying not to sound dumb. "That strip there," he answered. All I saw was more snow.
Full flaps came down, and Anderson slowed the Husky down to 60 mph. It was a pleasure watching this experienced pro casually line up on some invisible runway. I quickly realized the "strip" was the miniscule path I had seen; no more than some mud between snow banks. With ice and mud flying all around us, Anderson put the Husky down and stopped in what I swear was an unbelievable 150 feet. After meeting the strip's owner and chatting about the weather, it was my turn to fly the Husky back to Afton.
Page 2 of 5