Tuesday, January 26, 2010
Bear 360: Living The Warbird Dream!
A sexy new airplane reminiscent of the WWII Bearcat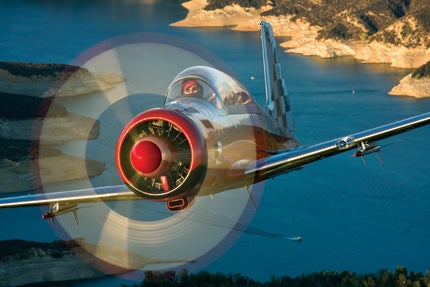 Designed for aspiring warbird pilots who lack the funds for a P-51 Mustang, the Bear 360 has a price tag roughly equivalent to that of a new Cessna 172. Unlike that airplane, however, the Bear probably will attract a crowd wherever it lands.
"When it comes down to it, looks are a lot of what warbird ownership is about," says Bear Aircraft CEO Skip Holm. Oozing WWII-era Grumman "Cat" styling, the Bear 360 certainly has "the look": round engine, distinctive fuselage style and short, thin wings. The all-metal, flush-riveted construction offers a warbird's solid look and feel. And all the metal parts are fully anodized, inside and out, to eliminate any corrosion issues.
Rounding out the Bearcat look is its radial engine: a 360 hp, fuel-injected, nine-cylinder Vedeneyev M14P. On startup, the aircraft billows out smoke from the exhaust, rumbles down the taxiway and thunders into the sky with a commanding presence. Motorstar NA of Romania produces the standard 360 hp engine, as well as the higher-powered, optional 420 hp M14PF and 450 hp M14R; there's also an option to install an engine from Barrett Precision Engines. Putting the optional oversized race spinner over the three-bladed prop provides the cowl section with a sleek, polished appearance.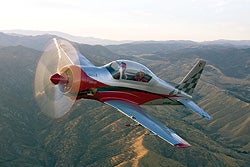 Powered by a 360 hp Vedeneyev M14P (though you can opt for 420 hp or 450 hp versions), the all-metal Bear 360 embodies a warbird's look and feel.
The one visual aspect of the Bear 360 deviating from its pure WWII styling, the large bubble canopy, fulfills its mission as a comfortable two-seater with ample room for pilot and copilot. Both cockpits in the tandem seating configuration have full flight controls. The front panel features a full instrument panel for the pilot, and the rear panel is equipped for limited passenger operation. The optional Fw 190 fighter canopy provides an even more dominating presence for the Bear 360. (An illustrated artist's rendition of the single-seat racer version has the pilot cockpit relocated to the back.)
The well-appointed pilot panel includes Garmin's GNS 430W and GTX 327 transponder and Dynon's EFIS-D100 and AP74 autopilot, the latter of which assists on long cross-country legs. Electronics International's MVP-50 engine monitor tracks what's going on under the cowl. Electric trim for aileron and elevator is located on both sticks, and the front cockpit has rudder trim as well.
How does a plane like this come into being? Let's start with aviation legend and retired U.S. Air Force Lieutenant Colonel Skip Holm, who has worked as a test pilot and engineer at Lockheed Skunk Works. Holm is a member of the Society of Experimental Test Pilots, an inductee to the "Living Legend" society and a veteran movie and TV stunt pilot. Also a renowned air racer, Holm has flown Dago Red to win Gold in five Reno World Championship Air Races. He also has flown such famed race planes as
Rare
Bear, Stiletto
and
Tsunami
. One of this assignment's biggest thrills was flying with Holm, a smart, engaging pilot with a nonstop supply of stories.
Page 1 of 3