Tuesday, January 26, 2010
Bear 360: Living The Warbird Dream!
A sexy new airplane reminiscent of the WWII Bearcat
The Bear 360 reaches fast speeds with reasonable fuel consumption in cruise, so getting out to the dogfight area is quick and inexpensive. On takeoff at max power, the aircraft burns a hefty 36 to 38 gph, but once in cruise, it burns as little as 12 to 14 gph at 155 KIAS. With its 76 gallons of fuel capability and optional 22-gallon external tank, the Bear 360 offers outstanding range for cross-country flights. If you don't mind twice the 100LL consumption, then you can fly at the published cruise speed of 230 knots!
The improvements for the production model versus the prototype I flew include a realigned engine mounting that has been engineered for aerodynamic efficiency. The production model's pneumatically actuated landing-gear system is hydraulic. Speed brakes have been added to help you when entering the pattern. Brakes are available for the back cockpit, and the tailwheel has been modified and made steerable (similar to a P-51) for ease of ground operations. A crank to slide the canopy shut ("just like the Mustang," Holm says) has been added and enhances the aura of this beast. The Bear comes with a fixed air step, though there's also a retractable option (for me, however, stepping up on the tire to the front of the wing is "warbird cool"!).
Options for the production Bear 360 include an external, centerline, WWII-style fuel tank that resembles a bomb in the underbelly. Also available are a high-speed-cruise propeller and extended wing tips. You can customize the aircraft to your desired look and performance with the many options for props and spinners. Standard items include the negative-G fuel tank, dual pylons and removable rollover canopy bar.
A Skip Holm Signature Series option allows owners to collaborate with the designers to create a custom airplane. Holm says he wants to put a 1,000-cubic-inch sprint car engine on one and race it at Reno himself.
The Bear 360 makes for thrilling, exhilarating flying. Holm says the Bear 360 will be welcome on the warbird ramp at Oshkosh, and I hope that turns out to be true. No matter what, an airplane this cool—and for a tenth of the price of the original Bearcat—sounds like a great deal.
Purchasing A Bear 360
What you need to know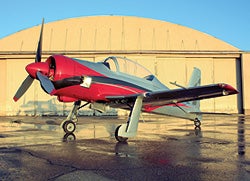 First, arrange a demo flight with Bear Aircraft in Southern California. Hopefully, you'll be able to able to fly with Skip Holm. The $500 demo flight is applied to the Bear's purchase price ($285,000 for the Ready to Fly version; $185,000 for the Almost Ready to Fly version, which is for owners supplying their own engine, propeller, avionics, interior and paint).

After completing the purchase agreement and making a 30% deposit, you can expect your 360 to be delivered after an estimated four months. Should you desire to visit your Bear 360 while it's being built in Orenburg, Russia, the Bear team will help you plan a trip.

Your brand-new Bear 360 will be delivered to Bear Aircraft's North Dakota location, but the company can make arrangements for it to be transported anywhere.
Holm estimates that most pilots will complete the checkout with 10 to 12 hours of instruction. Buyers have the option of training in their own airplane at their choice of locations, or at the Bear Aircraft home field in Shafter, Calif., using the company's Bear 360. Holm says that "it's helpful to have some tailwheel hours, and most people will be comfortable long before the expected 10 to 12 hours of dual required by many insurance companies." Visit www.bearaircraft.com.
Page 3 of 3