Tuesday, July 28, 2009
Bonanza In The 6th Decade
Is there a pilot out there who doesn't yearn for a Bonanza?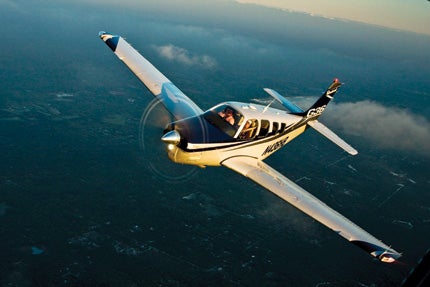 When I was a college student about XX years ago, one of the coolest cars on the planet was the Jaguar XKE. I had a rich classmate whose parents bought him one of the first ones available, and Jack quickly became the envy of every guy on campus—and the target of every coed.
The XKE had a look and sound like few other sports cars of its time. Jack's Jag was a swept and sexy coupe, mounted low and stretched long. Resplendent in British racing green (of course), it had a distinct, immediately identifiable, endearingly evil rumble as it growled around campus.
Today, I have my own XKE, this one is a yellow 1969 4.2 roadster, and aside from the fact that it spends more time in the shop than on the road, it's everything Jack's old coupe used to be.
Jaguars may no longer be the leaders of the supercar class, but they still possess an indefinable charisma that keeps them in demand. Performance is a simple matter of horsepower. Charisma is more challenging.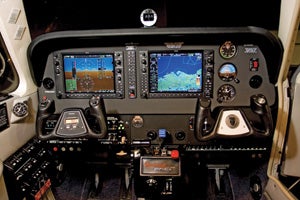 The "G" in G36 was added to the aircraft's name in honor of its sophisticated Garmin G1000/GFC 700 glass panel.
For many pilots, the Beech Bonanza has the same kind of attraction. Just as the Jaguar was an automotive paragon of performance in the '60s, the Bonanza continues to retain a similar attraction among general aviation airplanes. Never mind that its climb and cruise speed have been equaled or eclipsed by a trio of airplanes—the Mooney Ovation, Cessna Corvalis and Cirrus SR22—the Bonanza continues to garner more than its share of attention, a symbol of success repeated some 17,000 times over 62 years (in all versions).
The beautiful-though-controversial Model 35 V-tails are long out of production, and even the more durable and stable Model 33 straight-tails have been discontinued for nearly 15 years. Still, the current six-seat G36 Bonanza soldiers on, defying the odds and selling consistently to a select group of pilots for whom there's nothing else that compares. Taken collectively, the generic Bonanza—from the original 1947 "straight 35" V-tail to the current, glamorous G36—is the longest-running production airplane in the world.
Page 1 of 4