Tuesday, July 28, 2009
Bonanza In The 6th Decade
Is there a pilot out there who doesn't yearn for a Bonanza?
It's hard to imagine anyone flying a new Bonanza into such a hostile environment. The airplane's luxurious appointments and sophisticated avionics would seem more at home on an ILS to KLGB than a visual to No-Name, Alaska. Beech added the "G" in G36 back in 2006 in honor of the airplane's popular Garmin G1000 do-everything NAV/COM system with the GFC 700 autopilot. Most pilots who've been reading this magazine for a while know that the G1000/GFC 700 combination now reaches from practically the bottom rungs of general aviation to the top. Even the new Cessna Mustang jet flies behind a G1000.
Predictably, the Bonanza plays to the most affluent demographic among piston pilots. For 2009, the G36's base tab has been set at $605,000. Contrary to the punch line of the old catch phrase about buying quality, even if you do have to ask how much it costs, perhaps it's worth it.
Ask An Owner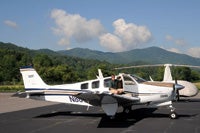 The American Bonanza Society (ABS) is one of the most active aircraft owner organizations around, and we contacted the group to identify members who had recently purchased G36 Bonanzas. Predictably, we were overwhelmed with responses.

It turned out Bonanza owners are nothing if not enthusiastic. We asked for two owners (some 60 responded to the ABS request and suggested they'd be happy to talk about their Bonanzas). These are their comments on the joys of flying the new G36 Bonanza:

Joe Budd of Winston-Salem, N.C., flies a pair of Hawker Beechcraft products all over the East Coast almost exclusively for business. Budd is the CEO of the Budd Group, a company involved in corporate security, landscaping and janitorial services in the Mid-Atlantic and Eastern United States. The executive has been flying a C90B King Air for four years and purchased the G36 specifically to handle short-range missions with reduced passenger loads.

"We typically fly the Bonanza on stage lengths shorter than 250 nm," Budd comments, "most often with three or four people on board. I put 200 hours on the Bonanza in my first year of use, and it's been an excellent asset for our missions."

Budd bought the airplane with most of the available options (including air-conditioning and TCAS) and says the G1000 is ideal for showing airspace, weather and traffic, all of which he has plenty to deal with along the East Coast.

"The airspace is very busy on the East Coast, and the TCAS has really paid for itself with its excellent warning system, especially in IFR conditions. We typically fly the airplane out and back in a day. We can go to a job, get practically a full day on site and be back home comfortably the same evening. We block the G36 at 160 knots and 18 gph, and those are very reliable numbers," says Budd. "The airplane is almost ideal for our short missions. About the only thing I wish we had was more payload, but that's rarely an issue since we're usually flying short distances.

"For our purposes, the G36 is almost the ideal single-engine business airplane."

Toby Wells (pictured left) of Pinehurst, N.C., bought a Skyhawk to learn to fly and became a true new millennium pilot by earning his private ticket on January 1, 2000. An entrepreneur who manages real estate, Wells used his Skyhawk to help his travel needs for the first two years.

"I bought my first Bonanza in 2002," says Wells, "and my wife and I spent 300 hours flying to 20 eastern states." Wells purchased his G36 in 2006 and has put about 200 hours on the new model, flying mostly solo business flights.

"It's a remarkable airplane," Wells says. "The engine is incredibly smooth, Beech quality is excellent, performance is very good—max cruise is about 170 knots on 17 gph—and it's a very comfortable airplane to fly, especially in IFR conditions. I use the GFC 700 autopilot quite a bit, and it's truly excellent for IFR approaches.

"I go to FlightSafety Academy once a year to maintain proficiency for flying manually, but the Garmin autopilot does coupled approaches better than anything I could do manually. It's a smooth autopilot that doesn't kick off in turbulence. That's very reassuring in rough weather."

Wells also enjoys the aft cargo doors. "My wife and I flew to New Hampshire to pick up some furniture a while back. We removed the aft four seats, and the airplane made a great freighter. There aren't many missions the Bonanza can't do."

Page 4 of 4