Tuesday, April 1, 2008
Flying Into The Future
Behind the Bonanza's anniversary makeover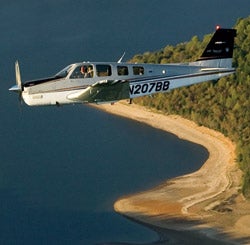 "I've been kind of seduced by the new autopilot," said G36 owner Andrew Bradley, of Norwich, Vt., contrasting the GFC 700–controlled system with the Bendix/King-driven G1000 systems he'd previously flown in Cessnas. "They didn't have as much flexibility," he said.
"I didn't understand what they meant by 'first integrated autopilot,'" said Joe Beck, an ocular surgeon from Wichita whose G36 is his fifth Bonanza. "Its 'capture' on approaches is so smooth. If you're doing a high-speed approach, it will start a bank very gently and you'll think, 'Wait, that's not right.' Then you think, 'I guess it is!' There's a constant delta in the rate. It's the most passenger-friendly autopilot I've seen."
What HBC has done with the G36 is essentially put a brain in the plane. Entire flight profiles can be programmed and flown, including climb and descent speeds and rates, even holding patterns. With updatable software driving the system, HBC can add more functionality as it becomes available. WAAS capability and Garmin's Safe Taxi charts for on-airport navigation are among the upgrades expected soon.
"You're getting essentially the capabilities you would expect in a 747 in your Bonanza," Blackmer said.
The net result is reduced pilot workload, greater situational awareness and improved safety. And the G36 also has a completely redesigned dual-bus electrical system with two batteries and two independent alternators. In the event of a catastrophic power failure, a standby electrically driven attitude indicator has its own battery power.
"A lot of guys I know have old Bonanzas, and they're fascinated by the avionics," said Dan Wray, of Carlsbad, Calif., who owned a 1982 Bonanza and a 1993 Beech Baron before buying a Bonanza G36. "They're truly impressed by the system redundancy."
But new panel or old, in an era of composite construction and computer-assisted design, how does a 60-year-old aircraft model survive, let alone remain a leader in performance and prestige in the single-engine market? It goes back to the genius of Beech Aircraft founder Walter Beech.
Page 2 of 4