Wednesday, September 9, 2009
Hawker Beechcraft Premier 1A: Little Big Jet
With six-passenger cabin seating, 450-knot cruise and fighter-like climb performance, the Premier 1A is the largest airplane in the light jet class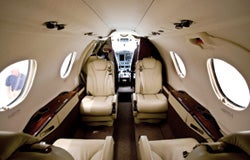 Designing the Premier with a composite fuselage freed up space for a spacious, quiet and comfortable cabin that's by far the largest in its class.
In fact, if you hadn't guessed from the airplane's generous cross section, the Premier's cabin is by far the largest in its class, essentially a tube measuring 5.5 feet in diameter. That's nearly stand-up headroom for some folks and eight to nine inches larger than the fuselage of the Cessna CJ series or Lear 31A, the Premier's closest competitors back in 2001. The first four seats are fully articulating, and the Premier's interior redefines first-class. Pressurization is 8.4 psi, allowing an 8,000-foot cabin at the airplane's certified maximum altitude of 41,000 feet.
Up front in the office, the Rockwell Collins Pro Line 21 digital integrated avionics suite incorporates every input and readout with maximum logic and minimum effort. All inputs are through a keyboard rather than twisting knobs. The Rockwell Collins Integrated Flight Information System is standard with electronic charts, airport displays, XM satellite graphical weather and map-overlay capabilities.
The Premier is blessed with a pair of Williams FJ44-2A turbofans, rated for 2,300 pounds of thrust per side, and that makes it an instant winner in all the performance parameters that count. It leaps off the ground in less than 3,800 horizontal feet at sea level, climbs at an initial 4,000 fpm and can level at FL410 in less than 23 minutes.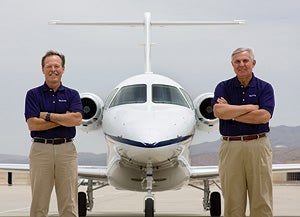 Retired astronaut Hoot Gibson (left) has flown three world records in the Premier IA. He and Product Manager Joe Grubiak (right) are an integral part of the Hawker Beechcraft team.
I talked to a half-dozen Premier owners, and all suggested that they enjoy the airplane's remarkable ability to leap tall heights in a single bound. One said, "I typically climb out at 250 knots below 10,000 feet, then transition to about Mach 0.65 for the remainder of the climb. I've had several instances when ATC needed me to slow down during climb, as I was climbing faster than some other jets were cruising."
Owners also suggested it didn't make much sense to fly a fast jet slowly unless there was a range issue, and most said once they reached cruise altitude, they operated at max Mach virtually all the time, typically flying as high as ATC would allow. Max cruise is about Mach 0.80, which equates to about 450 knots at optimum altitude. Perhaps more than coincidentally, this is exactly the typical cruise speed of most airliners. (Perversely, the fastest airliner is also the largest: the Boeing 747, which reaches Mach 0.85. Unlike the big Boeing, however, the Premier doesn't burn one gallon per second.)
Editor Jessica Ambats and I flew the Premier 1A demonstrator with a team of sales and demo pilots from Hawker Beechcraft: Product Manager Joe Grubiak, Chief Demo Pilot Peter Kennedy and consultant Robert "Hoot" Gibson, a former Navy F-14 pilot who saw combat in Southeast Asia during the closing years of the Vietnam War. After his Navy experience, Gibson was selected as an astronaut and logged some 36 days in space, flying five missions on the shuttle in the '80s and '90s. He served as Chief of the Astronaut Office in the early '90s. Gibson is also a world-record holder in the Premier 1A, with three city-to-city records: Seattle to Las Vegas at 426 knots (490 mph), Las Vegas to Wichita at 470 knots (540 mph) and Chester, England, to Geneva, Switzerland, at 445 knots (512 mph).
Page 2 of 4