Thursday, May 1, 2008
Resurrecting A Dream
A restored Staggerwing fulfills a father's wish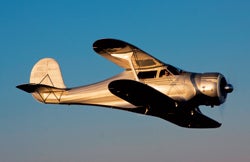 A hallmark aircraft of aviation's Golden Age, the Staggerwing set the gold standard for private business aircraft at the time.
In 1985, Bill Morrison was aboard a commercial flight bound for the Oshkosh fly-in when he suffered a heart attack. He died before the jet could make an emergency landing. On New Year's Eve that year, the row of hangars where the Staggerwing was temporarily stored caught fire. The hangar owner had no insurance. All that was salvageable was half the metal tube frame and half the landing gear. But the sons were as determined to make the plane fly again as their father had been.
"There was never a question," Mark said. "That was my dad's dream. If it was rebuildable, we were going to do it."
The project began in 1986. Mark and Ron were living in the Chicago area then. Brother-in-law Mike Garnreiter pitched in again. They painted a banner, "One More Time," and hung it at the back of their hangar at Chicago's DuPage Airport (KDPA) where the aircraft would be based. Michael Stanko of Gemco Aviation Services in Youngstown, Ohio, rebuilt the frame. The Morrisons' mother, Shirley, provided emotional and financial support.
"Dad wasn't there to help. That was the hardest part of the restoration," Mark said.
Four years and about $200,000 later, the rebuild was complete. Bill's Dream was reborn. The first flight was to the Tullahoma fly-in in the fall of 1990.
Listening to Ron and Mark, one discovers unexpected ways an airplane can bring people together. This airplane brought the brothers and their father closer. It also helped cement the bond with Mike, their brother-in-law. And it brought Mike into the Staggerwing community. His autumnal orange Model 17, flown in from Paradise Valley, Ariz., was parked next to Bill's Dream at the Tullahoma fly-in.
"I enjoyed it so much," Mike said of working on the Staggerwing and meeting other aficionados during a previous trip to Tullahoma. "I decided I'd buy one. I've had it seven years—lucky seven. The timing just worked out well with the last child off to college."
But that, it seems, only hints at this airplane's power to draw people closer.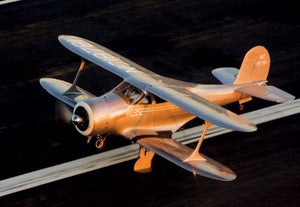 "I met my wife because of Staggerwings," Ron added nonchalantly as he continued the story. Every year, the brothers take the airplane to Oshkosh. One year, soon after completing the second restoration, they were parked by a Model 17 owned by an airline captain from Nashville. "If you ever meet a nice Southern girl, let me know," Ron, who was looking to settle down, told him. At Oshkosh the next year, the captain informed him, "I met your wife."
"What are you talking about?" Ron questioned him.
"Your wife—you said to let you know if I found a nice Southern girl for you. She's wonderful—she's a teacher."
Ron and Margaret have been married 14 years now and have two sons. Meanwhile, Mark and his wife, Gloria, have three girls and a boy. And both brothers are passing their love of aviation and their veneration for their father's legacy to their children.
"For me, being able to share this with my boys is giving me the same sense of gratification my dad probably had," Ron said.
And with a third generation of Morrisons now enjoying the Staggerwing, Bill's Dream is sure to live on for a very long time.
Said Mark, "I know he's up there watching us, keeping us safe."
SPECS:
1938 Beech F17D Staggerwing NC18781
Page 3 of 3