Tuesday, October 19, 2010
Sports Sedan Of The Six-Place Singles
Largest of the Bonanzas, the G36 nevertheless retains the type's excellent performance and control harmony
A Day At The Beech
A beloved Bonanza returns to its Wichita birthplace
Story and Photos by Ron Mohrhoff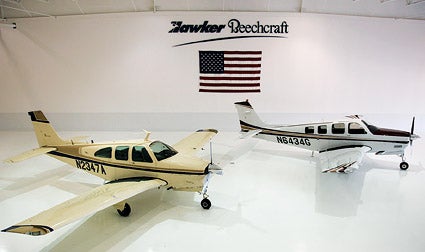 I've owned a Bonanza for six years, and I love the airplane more every day. Maybe it's the aerodynamic lines that are remarkably undated considering their World War II origin; the stout wing dihedral that gives it that proud ramp appeal; the beefy landing gear that folds up gracefully into the belly after takeoff or the cracking sound of its power. Whatever it is, the Bonanza has a distinct personality you can only fully understand by seeing how it's made.

It was during a photo shoot on a partly cloudy afternoon over Southern California's Catalina Island that I got to know Joe Grubiak, aviation consultant and former Premier product manager. He was with former astronaut Hoot Gibson in a new Beechcraft Premier IA, just 20 feet off my Bonanza's right wing and in view of Jessica Ambats' camera. Joe is everything you would expect of a man working for the legacy aircraft manufacturer that produced the Staggerwing, Bonanza, Baron, King Air and Premier. He's smart and friendly, with solid midwestern values, and came up in his aviation career in the military. He's a can-do guy who says yes to everything. When you're with him, you genuinely feel that you're going to have a great day.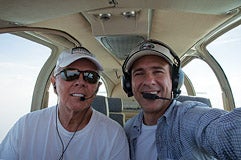 HOMECOMING FLIGHT


Last summer, N2347A turned 40, something I was nostalgic about, so I started to imagine a trip to Wichita with my dad, the second biggest aviation enthusiast in my family. It took a year for all the stars to align, and this August we boarded the now 41-year-old BE33 for the 1300-nm trip from Santa Monica, Calif., to the Beechcraft factory in Wichita, Kans. The longest leg I had flown prior was Santa Monica to Cabo San Lucas, which took just over five hours and left 16 gallons in the tanks, so I knew I had six hours of endurance at 10,000 feet. The challenge this time was the geometric puzzle of convective AIRMETs cluttering the entire route. This was impossible to avoid this time of year, but we tiptoed cautiously past the California border and then ventured forth. I flirted with the smaller clouds but flew around the mean ones. We felt lucky as we passed huge buildups on both sides of us while the route in front was relatively clear.

After two time zones and a fuel stop in Las Vegas, N.M., we arrived in Wichita early in the evening. ATC vectored us for a left base over the Wichita Turnpike for Runway 36 at KBEC. This is the runway that introduces you to the grand presence of Beechcraft in the area. The 8,000-foot strip crosses diagonally through the center of what's commonly referred to as the "square mile," and is the approximate size of the factory spread. We were vectored a bit high for base-to-final turn, but with gear down and power out, the old 33 dropped right in like a little bird returning to the nest. It's very likely the last time this airplane had been on that field was during the summer of 1969, while Neil Armstrong was on his way to the moon. The touchdown was so soft I like to imagine that I had little to do with it and this historic moment was creating itself. After landing, the tower directed us to a taxiway and instructed us to follow a blue line to the delivery center where folks pick up their new Beechcrafts. It was exhilarating to stand there, having just flown all that way to the legendary birthplace of my airplane. Dad and I paused, taking in the moment.

Page 4 of 5