Tuesday, October 19, 2010
Sports Sedan Of The Six-Place Singles
Largest of the Bonanzas, the G36 nevertheless retains the type's excellent performance and control harmony
A Day At The Beech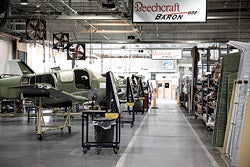 A TOUR THROUGH TIME


The next morning at the delivery center, we were greeted enthusiastically by our host, who in perfect Grubiak form made sure to be there and make good on his invitation. Also joining us on the factory tour were Sarah Estes, HBC PR representative, and Bob Conard, HBC Senior Information Technologist, who took the day off from his regular duties in anticipation of a Beech nut from California. He drove us to the southwest corner of the square mile where Plant II is located and where Bonanzas and Barons have been manufactured since 1953. Bob is truly an encyclopedia of Beech history, and I wore him out asking questions like a kid at Disneyland.

I took a deep breath as we entered, and right away I felt as if we had time-traveled to another era marked by postwar American values and pride. The airplanes are all made by hand like a fine watch, and there's little, if any, automation in the process. Instead there are stations built around a core where the fuselage starts and moves through the production process before it's joined with the wing and rear empennage. Vintage fans ventilate real people—not robots—assembling parts and putting in rivets. The fit, finish and quality I had come to love made more sense as I observed people carefully building various components. I felt the history among the familiar shapes and structures of the airplanes in various stages of completion. There are pieces of manufacturing equipment that show years of use, and you get the feeling that the pieces weren't replaced or updated because they were just right from day one. There's a jig used to align the nose gear that has served this line for the entire 63-year run of Bonanza production and really, it seemed like we all needed to take a moment of silence to honor this old piece of equipment that not only aligned the nose wheel on the very first Bonanza ever made, but on my E33 in 1969 and the G36 that passed through here just an hour ago.

The workers we met were all happy to strike up conversations, curious about why we were there and eager to talk about their job. They all seemed to really enjoy building Bonanzas, and you could see the pride in their demeanor. I tried to impress one guy working on the installation of the special edition 550 engine by telling him about our long trip out from California. He immediately deadpanned: "Of course you did," not surprised at all that the 41-year-old airplane made the trip. His response said more than I could write about the factory and the longevity of the Bonanza line. In a vain effort to find one person who might have actually worked on Four Seven Alpha, I asked everyone I met how long they had worked there, but no luck. However, many of the employees we met had worked in that factory for 10 or more years; some even 30. Their positive attitude, as well as all those years of experience, helps explain why these airplanes still work so well after many hours of use. The Beechcraft operation is a well-worn machine producing some of the finest airplanes in the world, and there's a patina about the place like a precious antique that best describes the Bonanza/Baron factory. More than 17,000 Bonanzas were built on the square mile in 63 years.

Our journey was primarily about the Bonanza, but it's impossible not to mention Plant IV. It was inspiring to turn our attention from the legendary Plant II to a newer facility where some of the most advanced airplanes in the world are being assembled on a much larger and more linear scale. Although working with much more advanced components, the employees displayed the same friendliness creating King Airs, Hawkers and Premiers that we noticed earlier. Conard guided us from an impressive row of nearly complete King Airs "back to the future," where the next generation of Beech legacy was unfolding in the production of the Premier. The carbon-fiber/epoxy honeycomb composite shells that make up the jet's fuselage remarkably weigh only 600 pounds and are 20% lighter than and three times as strong as aluminum. This allows designers to build a large, luxurious interior while still delivering speed and economy.

As we returned to the delivery center for lunch, I couldn't help but think that a pilot could spend his whole career flying airplanes made right here, starting with the Bonanza and working up to the Hawker 4000. We entered the lobby of Hawker Beechcraft headquarters and walked down a long marble hallway to the observation deck that looks out over the expansive, spartan, white hangar where every Hawker Beechcraft aircraft is delivered. The company's stylish logo decorates the wall just above a full-sized American flag. We sat down to a delicious meal served in a glass conference room looking out at a brand-new G36 that was parked next to my 1969 BE33. The bright Kansas sunshine lit the hangar through the open door, and from that angle my airplane looked nearly brand new. There's a striking family resemblance that, despite the G36's fancy leather interior and glass avionics, both airplanes have in common. They are surely part of a great heritage that continues to this day.

Page 5 of 5