Saturday, July 1, 2006
The Baron Of Glass
A seventy-five-year legacy turns the corner on the 21st century

Walter Beech was born with a nearly H.G. Wellsian vision of things to come, at least when it came to aviation. In 1905, at the tender age of 14, Beech designed and built his own glider. Nine years later, he experienced his first flight. During World War I, Beech flew as an army pilot and he became a barnstormer after the war. " />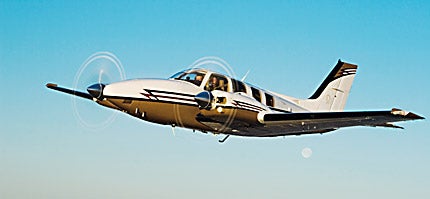 Walter Beech was born with a nearly H.G. Wellsian vision of things to come, at least when it came to aviation. In 1905, at the tender age of 14, Beech designed and built his own glider. Nine years later, he experienced his first flight. During World War I, Beech flew as an army pilot and he became a barnstormer after the war.
Ever the innovator, Walter Beech had a talent for thinking "outside the box" long before the cliché phrase was coined. In fact, Beech hardly recognized there was a box. Even for those of us who weren't around back in the '30s, the Beech model D17s are remarkable machines. Dubbed the Staggerwing because of the reverse stagger of its top wing, mounted about 18 inches aft of the lower wing, the new Beech design offered perhaps the most remarkable speed range of any airplane of its time. With the benefit of electrically activated, bicycle-chain operated, retractable gear, the Staggerwing featured a speed range from 60 to 200 mph (52 to 174 knots)—an operating ratio of 3.35 to one. It would be almost 50 years before another piston airplane (the 1989 Mooney TLS) would exceed that level of efficiency. Famed aviatrix Jacqueline Cochran won the 1937 Bendix Trophy Race flying a Staggerwing.
When World War II ended, Beech had another innovative design up his sleeve, and he created arguably the most trend-setting, single-engine plane ever built—the model 35 Bonanza. Like the Staggerwing, the V-tail Bonanza was a revolutionary airplane for its time, offering roughly the same cruise in mph as its horsepower. With only 165 maximum continuous horsepower out front, the 1947 model 35 Bonanza turned in a cruise of 172 mph. In the late '40s, Douglas DC-3s were the standard airliners of the day, and the first Beech Bonanzas could cruise at the same or better speed.
Despite Beech Aircraft's reputation as one of the most conservative manufacturers in general aviation, the company that Walter and Olive Ann Beech launched in 1932 continues to produce cutting-edge aircraft.
Page 1 of 4