Saturday, July 1, 2006
The Baron Of Glass
A seventy-five-year legacy turns the corner on the 21st century

Walter Beech was born with a nearly H.G. Wellsian vision of things to come, at least when it came to aviation. In 1905, at the tender age of 14, Beech designed and built his own glider. Nine years later, he experienced his first flight. During World War I, Beech flew as an army pilot and he became a barnstormer after the war. " />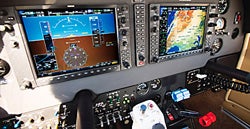 A Garmin G1000 integrated avionics system with a GFC 700 autopilot comes standard in the 2006 Baron G58.
Certainly one of the most durable of the modern Beechcraft designs is the Baron. Initiated in the late '50s as the model 95 Travel Air, flying behind a pair of 180 hp Lycomings, the first Barons received new engines with 260 hp mills and were dubbed model 55s.
That first Baron 55 was eventually stretched to the six-place model 58, which was introduced in 1970. The Baron 58 remains the only medium piston twin still in continuous production. These days, the entire piston twin class consists of only three airplanes: the Piper Seneca V, Piper Seminole and the Baron 58 (with the Baron at the top of the class).
Like all Beech products that came before, the Baron 58 was always a well-engineered, impressively constructed airplane. Over the last 36 years, Beech has progressively improved the Baron to the point where it's difficult to find anything to criticize. Virtually every glitch (and there weren't many to begin with) has been fixed.
The 58's gear switch used to be on the right with flaps on the left, exactly the opposite of the rest of the industry. Similarly, the Baron's throttles used to be in the center—standard practice for older, two-pilot military and airline aircraft—so that both pilots could more easily reach them. Nothing wrong with either mount—that's just the Beech way of doing things.
For pilots who learned to fly in Barons, the location of the controls wasn't an issue, but some pilots transitioning from other types were mystified when they accidentally feathered both props on final. Typically, there was no harm done.
On the other hand, gear and flap switch location weren't so forgiving. More than one pilot looking to transfer as much of the airplane's weight as quickly as possible, to maximize braking after touchdown, has retracted the gear when he meant to raise the flaps.
Page 2 of 4