Saturday, July 1, 2006
The Baron Of Glass
A seventy-five-year legacy turns the corner on the 21st century

Walter Beech was born with a nearly H.G. Wellsian vision of things to come, at least when it came to aviation. In 1905, at the tender age of 14, Beech designed and built his own glider. Nine years later, he experienced his first flight. During World War I, Beech flew as an army pilot and he became a barnstormer after the war. " />
In fairness, that's always a risk on any retractable airplane, one reason many instructors teach that you should never touch anything on the panel until you've pulled off the runway and stopped. Others preach that you should always say out loud, "hand is on flaps," before you reach for any control after landing, the premise being that the sound of your own voice will stop you from grabbing the wrong lever. On the old Bonanzas and Barons, unconventional control placement simply made it easier to mistake one control for the other.
Eventually, in 1984, Beech bowed to convention and swapped the gear and prop-control locations, plus they moved the throttles to the far left. The company also did away with the thick control bar that sprang from the center panel and branched to both yokes, obscuring the instruments and controls on the lower panel. Today's Baron features conventional, independent yoke controls mounted on shafts directly in front of the pilot and copilot.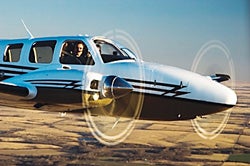 Each of the Baron 58's engines is rated at 300 hp. The aircraft climbs at 1,700 fpm and cruises at 202 knots.
For 2006, the G58 Baron incorporates all the best features that came before and now adds the Garmin G1000 integrated avionics as standard equipment—certainly one of the most talented electronic suite of avionics and instrumentation ever installed in any general aviation airplane.
Just as Garmin quickly became the dominant force in GPS 15 years ago, the company has similar plans for its G1000. Cessna, Columbia, Diamond, Mooney and now Beech have all adopted the G1000 system as the top-of-the-line avionics option.
If there's any downside to the newest, best, most modern Baron ever built, it's the price. Historically, Baron buyers have never been the type to ask "How much?" and that's a good thing. A typical, G1000 Baron goes out the door at Wichita with a list tab just over $1.2 million.
At this writing, contractor Jim Hill has been operating one of the first G1000-equipped Barons for nearly five months, and he's enthusiastic about the airplane's performance and technology. "I traded a 2004 Bonanza 36 for the Baron, so the interior layout and panel configuration were already fairly familiar," says Hill. If current utilization continues, it looks as if we'll be logging at least 500 hours a year."
Page 3 of 4