Sunday, May 1, 2005
The Littlest King Air
Fifty years of continuous production point out the importance of a twin turbine.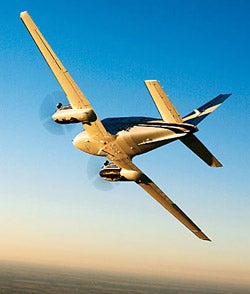 The Beechcraft line of King Airs have long been the premier twin-engine propjets on the market, and Beechcraft has produced the type continuously since 1964. In fact, in January of this year, Beechcraft pushed its 6,000th King Air out the door at Wichita, Kan. (Interestingly, the 5,000th King Air was delivered in 1996, so Raytheon Aircraft Company/Beechcraft averaged about 100 airplanes a year for the last decade.)
Drop back 40 years, and the first King Air to fly was the model 90, essentially a pressurized, turboprop adaptation of the piston-powered Beechcraft 65 Queen Air. Indeed, that first King Air was to spawn a whole family of turboprops, several versions of the model 90, the 99 airliner, the 100, 200, 300 and 350. King Airs have never been the fastest airplanes in their class (that honor belongs to Piper's long since discontinued Cheyenne 400), and the Beechcraft turboprops certainly have never enjoyed the lowest prices in their field. Typical of other Beechcraft products, each of the company's entries in the turboprop class have been priced near the top of the market.
Yet that hasn't impacted sales. The venerable Beechcrafts have the distinction of simply having survived when all the manufacturers above have long since given up on twin-engine propjets. (Today, Piper produces only the single-engine Meridian, and Cessna still builds the successful, utility, unimotor Caravan, while Beechcraft's turboprop line continues to include the twin-engine C90B, B200 and 350.)
The modern King Air C90B is dimensionally the same airplane it was in 1964, although the model has been dramatically improved in practically every area. The biggest change on the C90B, introduced in 1991, was the installation of four-blade, McCauley propellers. In keeping with the King Air's normal executive mission, Beechcraft also placed special emphasis on reducing cabin noise and vibration levels. The C90B's passenger compartment retains the same generous space as the original airplane, 54 inches across by 57 inches tall, and the smallest turbine Beechcraft is typically configured for two pilots and as many as five passengers in the rear.
Power is still provided by a pair of 550 shp Pratt &Whitney-Canada PT6A engines. The durable Pratt turbines have become famous for their reliability and currently boast a TBO of 3,600 hours. Unlike piston powerplants that often are hard-pressed to come anywhere near their recommended TBO without several topped cylinders, turboprop engines are significantly more consistent and dependable. Granted reasonable maintenance and attention to temperatures, there's no reason why the P&W engines shouldn't run right to their TBO limits.
Page 2 of 3