Thursday, June 19, 2008
The Mystique Of The Baron
The basic design may be 40 years old, but the 2008 Baron G58 flies with a newborn's enthusiasm and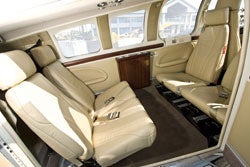 Through aft double doors in the aircraft's right side, passengers step into a comfortable, air-conditioned cabin featuring conference-style seating for up to four back-seaters.
The current G58 incorporates all the best features that came before. Aerodynamically, Beech got it right the first time out of the box. In 2006, the company added the Garmin G1000 avionics system to round out the airplane's already considerable talents.
If there's any downside to the newest, most modern Baron ever built, it may be price. If you have to ask how much, then perhaps you don't really want to know. A typical Baron G58 exits the Wichita, Kans., door with a list price of about $1.2 million.
While the Garmin G1000 suite makes the Baron seem as modern as tomorrow, the basic airplane has proven itself over nearly half a century. Today's Baron remains the last of its kind from a class that once included the A55 through E55, the 58TC, the top-of-the-line 58P and the original, "real" six-seat Baron, the straight 58.
With the help of 600 horses out on the wings, the Baron has always had a deserved reputation for scampering across the sky as if something bigger was chasing it. Specifically, Beech places the new Baron's cruise at 202 knots, which puts it at the head of its class, though it's admittedly a very small class.
There are basically four piston twins available today. Two of them, the Piper Seminole and Diamond DA42 Twin Star, are intended as trainers, so they have little need for high cruise numbers. The Seminole is a scaled-up Arrow with an extra engine, and the DA42 is a significantly modified Diamond Star with a pair of Thielert diesels on its wings.
The only true contender to the Baron is the Piper Seneca V, and in terms of sheer numbers, it's indeed a formidable competitor. Born at about the same time in the early '70s, the modern Seneca employs a pair of turbocharged, 220 hp Continentals to protect it from evil, and that allows the newest PA34 to cross the sky at 197 knots, though, admittedly, that speed is only available in the flight levels.
Page 2 of 4