Thursday, June 19, 2008
The Mystique Of The Baron
The basic design may be 40 years old, but the 2008 Baron G58 flies with a newborn's enthusiasm and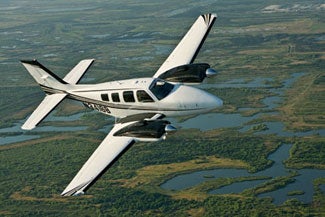 I was at Sun 'n Fun two years ago when a subscriber walked up to me and asked a question I wasn't quite ready for: "Why don't you ever write stories about airplanes you don't like?" As the resident "primary" pilot reporter for
Plane & Pilot/Pilot Journal
, that stopped me cold, but not for long. The answer is that there are few airplanes I don't like. In fact, I've never personally met an airplane I didn't like." />
The Baron and Seneca both offer excellent access to an air-conditioned, comfortable cabin that seats six via aft side double doors (though mounted on opposite sides). Hauling six large folks in either airplane, however, would be a challenge, especially if the model were equipped with the gamut of options, as most are. The Baron mounts its aft doors on the right, and the Seneca's are on the left, but both offer easy access to a long, comfortable cabin. Separation between the conference-style second- and third-row seats is generous, which minimizes overlapping legs. If there's no one in the opposing seat in back, you can put your feet up and feel like a business-class airline traveler with a luxury footrest.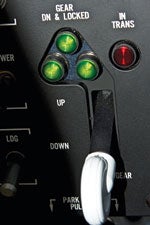 The Baron G58's landing-gear lever (above). With its two 300 hp Continental IO-550C engines, the aircraft can reach a 202-knot cruise speed at 75% power.
With the Baron's standard 194-gallon tanks topped off, a fully equipped aircraft offers only about 300 paying pounds. That's equal to one pilot plus baggage or two lightweight folks. In order to haul six full-size people plus reasonable luggage, you'd need to limit fuel to about 58 gallons, roughly an hour and a quarter plus reserve. You obviously always have the option of leaving the airplane partially fueled if you must substitute people pounds for fuel pounds.
At a burn of roughly 16 to 17 gallons/engine/hour, the big tanks provide five hours of endurance plus reserve. Five hours at 200 knots makes the math fairly simple—range is 1,000 nm. If there's a need to stretch the limits, long-range power settings at 10,000 feet can boost the airplane's reach to more like 1,300 nm.
I've had the good fortune to ferry a half-dozen Baron 58s around the world, and they've been consistently good rides. They offer few objections to being loaded as much as 1,000 pounds over gross. In one instance, I brought an older 58 back from Nadi, Fiji, to San Francisco, Calif. The airplane had an additional 300 gallons temporarily plumbed to the engines from the aft fuselage and nose baggage; handling remained acceptable and range was never a consideration.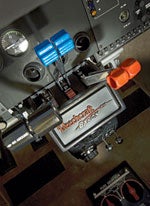 We asked Jim Hill, a contractor in Van Nuys, Calif., and owner of a 2006 Baron G58, for his assessment of its talents, and he felt that climb and handling are perhaps the airplane's strongest benefits. "Almost without exception, everyone loves the new airplane. Climb is excellent, about 1,600 fpm initially and an easy 1,300 fpm in a 140-knot climb. We can usually reach cruise altitude in no more than five to seven minutes," says Hill. "If I'm in a hurry, I can score 195 knots on about 34 gph, but the more intelligent way to run the airplane is at 185 knots on 2 gph less fuel burn. All the systems work well. So far, the G1000 seems fairly bulletproof, and I've used deice several times. It does a good job, though again, we rarely need deice in the Southwest."
The Bonanza's legacy of crisp, precise handling carries over to the Baron, and virtually every Baron owner raves about the airplane's wonderful manners in flight. "You don't really notice the weight that much," says Hill. "The controls are so tight and well-harmonized that the 58 makes a great IFR platform. Of course, once you get adjusted to the G1000, it just makes everything easier in instrument conditions. The glass-panel displays are so large and the positional awareness so obvious that you'd have to work to become disoriented."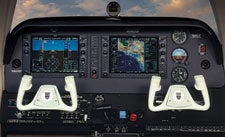 The Garmin G1000 contributes avionics sophistication to an airplane that has proven itself since 1961. For those who are unfamiliar with glass, the PFD and MFD screens may take some getting used to, but they ultimately ease the flying process and make it safer.
Hill's only criticism of his new airplane is cabin room. "The airplane is beautifully furnished and lavishly appointed, but the cabin is essentially identical to the A36 Bonanza's, only 42 inches wide and not that tall," Hill comments. "When we have big guys to carry, anyone over six-foot-two, we place them in the aft-facing center seats that seem to have the most headroom. Tall people don't do so well in the front or aft two seats."
Everyone agrees that the Baron is a strong, comfortable twin with performance to spare, excellent range, good resale value and perhaps the best handling of any light twin. Priced at well over a million dollars for a fully equipped airplane, no one can guess what will happen when the single-engine VLJs come on line, but for the nonce, the Baron continues to deserve its royal title.
SPECS:
2008 Beechcraft Baron G58
Page 3 of 3