Tuesday, August 20, 2013
There's Something About A Bonanza
In continuous production for an amazing 66 years, the Bonanza continues to be most aviators' dream machine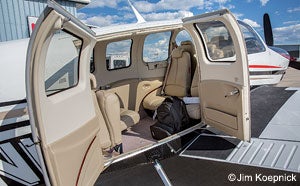 An updated interior includes new cabin seats with adjustable lumbar support, new side ledges and redesigned "waterfall" headrests.
As with most other aircraft manufacturers, the company's battle with the scales has been never-ending, and almost unquestionably will continue to be. Five hundred eighty-eight pounds is three people plus 80 pounds of baggage, and that might seem inconsistent with a six-seat airplane. Once again, however, the G36 was never intended to fly with full fuel and full seats.
The story is very much the same with most four-seat airplanes that can only carry three with full fuel on board. The G36 makes an impressive four-seater with enough fuel for three hours plus reserve and plenty of room to stretch out and enjoy the trip.
Conversely, maximum allowable payload on the G36 is limited to 864 pounds, so there's no way you could load six 170-pounders into the G36 and fly away, no matter what your fuel load. (Never mind that the average passenger weight these days is probably well above 170 pounds.) Four adults and two kids would be about the limit. If you did fly with maximum payload, you'd need to limit fuel to 26 gallons, roughly an hour plus a small reserve at 65% power.
In fact, that may be the way most pilots will operate the G36 Bonanza. You'll only lose about six knots at 65% power, but fuel burn drops by two gph, a more than equitable trade.
The Baron and Bonanza share the same landing gear used on Beech's military, turboprop T-34C to train U.S. Naval aviators to come aboard carriers, although no T-34C has ever actually landed on a carrier. The point is that Bonanza gear is as stout as they come, and that's one reason you can take the Cadillac up the jeep trail if there's a need. I've seen a few of the airplanes flying cargo or supplies to bush strips in Alaska.
In truth, the G36 isn't suited to short strips, but the gear is adaptable to semi-rough surfaces, as long as the potholes aren't deep enough to ding the gear doors. With the quick-change interior and rugged floor structure, the G36 can accommodate more and varied types of cargo than you might imagine.
Beech sold just under 100 G36s in the last four years, so the Bonanza isn't a high-volume production model. Base price is $759,000, but remember, there are essentially no "ups" to elevate that cost. The 2013 G36 comes complete as is with easily enough performance and avionics to satisfy an Airbus captain.
Even after 66 years of production, the model 36 Bonanza isn't perfect. The cabin isn't as wide as a Mirage, and the payload isn't as generous as a Matrix. That doesn't matter. I still want one.
Page 4 of 4