Tuesday, May 8, 2012
Kiss & Bristell
Friendly, refined, beefy for rough-field training, yet a cruiser's delight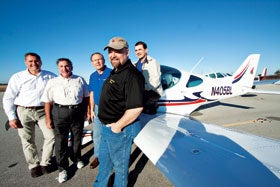 Movers and shakers in the Bristell world:  left to right, John Rathmell, Lou Mancuso, John Calla, Barry Pruitt and Milan Bristela.
"The Bristell is entirely CNC machine produced, which will make many parts readily available here in a pinch," Calla goes on to explain, "without waiting for shipment from Czech Republic."
The airplane weighs in empty at 705.5 pounds, significantly less than the Skycatcher (843 pounds), with a useful load of 614.5 pounds. Fuel capacity at 34-plus gallons brings a conservatively estimated range of 700 nm and 6.2 hours' endurance, at a high-cruise fuel burn of 5.5 gph and 116 knots top cruise, which makes it one of the faster LSA out there.
Two more nifty features: a lockable canopy (push-button start—no ignition key) and lockable, waterproof wing-top lockers on both sides (44 pounds each). My demo plane was loaded with an emergency kit, which comes standard with tools, electrical and duct tape, first aid supplies, jumper cables, batteries and even a tire compressor in case of flats!
"A grown man loves a kit!" chirps John Rathmell before our flight.
"Yeah, but John, where's the frying pan?" I counter.
Climbing Aboard
Let's start here: cabin width. At 51 inches at the shoulders, it's nearly five inches wider than the Evektor Harmony. Rathmell is a broad-shouldered six-footer, and I'm 5'11", yet there's plenty of room between our shoulders and headroom enough for pilots up to 6'8". The wooden stick grip is a fun touch. Attractive red/gray leather/fabric upholstery should also hold up to flight-school abuse.
Bristell's adjustable rudder/toe brake pedals are a treat. Pull the under-panel latch, and the spring-loaded pedals slide back to meet feet. Bonus factor: On long cruising flights, push them all the way forward for relaxing footroom.
I like the placement of the fuel-tank dial right under the panel, at center stage and just above the throttle quadrant. In-cockpit fuel lines are aluminum, not plastic.
The cylindrical throttle lever feels good in your hand: a smooth action and short (but not too short) lever arm. The flap dial left of the fuel switch is unusual, but I quickly adapt to the twist-on/twist-off convention and end up liking it.
Page 2 of 4