Tuesday, May 8, 2012
Kiss & Bristell
Friendly, refined, beefy for rough-field training, yet a cruiser's delight
Push/pull knobs on the panel just above the flap/fuel tank dials are clearly labeled and differentially colored to help quick-scan identification: parking brake (black), cabin heat and defroster (aluminum), carb heat (yellow).
The deck on the version I flew was nicely equipped: Tru Trak 7.25 inches tall by 6 inches wide EFIS with all the bells and whistles, including airspeed, artificial horizon, VSI, HSI, slip/skid ball and lots more; the new seven-inch Garmin GPSMAP 796 GPS; a dockable Apple iPad; PS Engineering PM 3000 intercom; Garmin SL 40 comm radio and GTX 327 Mode C transponder; and Composite Design Electrical panel.
Fly Time
The overhead composite shield molded into the canopy blocks that brain-cooking overhead sun and also provides some additional rollover protection. Some might prefer a curtain or semi-opaque sunblocker, but if you don't require the straight overhead view, there's still an abundance of good visibility.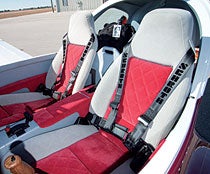 The Bristell cockpit measures 51 inches wide and features leather/fabric upholstery.
The A and B magnetos are wire-frame-protected toggle switches right above the master switch: neat! Taxiing is a breeze with the steerable nosewheel and toe brakes. Toe brakes are easy to work and the turning radius is plenty adequate for reversing direction on the taxiway.
There's no distracting distortion from the one-piece canopy, so tracking straight on power- up is easy. Liftoff comes quick, and holding John Rathmell's recommendation of 62 knots (best L/D speed in case of engine failure. Note: Barry Pruitt recommends 65), we see around 1,200 fpm, with near-full fuel and 400 pounds of payload.
The Bristell feels like an old friend on my first crosswind turn. Although not quite as nimble in roll as a Remos GXNXT, the pushrod-enabled handling has no slop, and is quick, smooth and responsive, never twitchy: You put in a touch of muscle, and the airplane goes right there. Same with pitch: Both axes feel nicely balanced and friendly.
The rocker-style elevator trim tab is right where your hand can easily find it, left of the throttle quadrant. Very easy to trim up: I like it better than on top of the stick where many LSA have it.
Page 3 of 4