Friday, April 4, 2014
The Handsome, All-Terrain Bush Plane
Pick your "feet" for snow, water or land: You get them all with this rugged LSA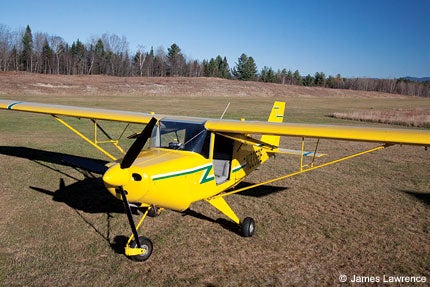 Larry Labor followed a life path many pilots can identify with: After learning to fly in his youth, college, career (pharmacist) and family all conspired to keep him from the joys of the sky for decades.

As retirement loomed, the former ultralight pilot dreamed the dream of wings again. "I was interested in low and slow flight," he tells me as we stand in a chilly fall breeze at his home base, northern Vermont's pristine Island Pond Airport. "'Low' means under 5,000 feet and 'slow' means in the 62 to 80 mph range," he continues. "But I wanted the potential for more performance than that."

In his search for the right LSA, he met Tony Watkin, owner of BushCaddy (www.bushcaddy.com), a sport aviation manufacturer that lives just over the U.S. border in Summerstown, Ontario. Watkin produces a fleet of rugged, all-metal, classic-style bushwhacking aircraft: Five are Experimental Amateur Built kits, and one is an S-LSA/E-LSA model. It's called the Sport.

The company offers a surprising bounty of engine packages, too, from Rotax, Lycoming, Jabiru and Rotec, to the new Italian MW Fly engines (with six hp ratings from the same block—see sidebar).

Labor wanted a step up in performance from ultralights and backcountry flying muscle, too. And the Sport's affordable price of $89,900 (Canadian) didn't hurt, either.

Perhaps the biggest draw of all: The "convertible" nature of the Sport. "We have lots of lakes up here," Labor says, highlighting the S-LSA's ability to convert from taildragger to tricycle-gear mode in two to four hours, and both configurations come with the purchase. The Sport can be rigged for float and snow-ski flying, as well. "Now every lake becomes a new airport," he beams. "In winter, you can land on the ice, talk to the fishermen and share a cuppa coffee."

Labor drove up to the BushCaddy factory to spend a whole day with Watkin. "I fully enjoyed seeing the intricacy of the jigs, most of which are CNC computer-controlled, and the entire building process."

Sold on the airplane, he heard of a low-time, factory-built version of the R80 kit (forerunner of the Sport). He made the deal, and here we stand on the 2,600-foot-long, golf-green-like runway of Island Pond. Newly retired, Labor has logged 70-plus hours in the good-looking, all-aluminum bird.
Page 1 of 5