Wednesday, November 1, 2006
Emerald Goddess
Saved from the scourges of war, a glorious Italian biplane rises from the ashes to lead la dolce vita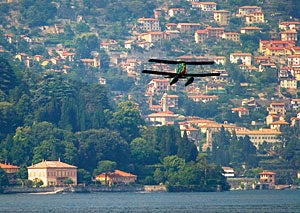 The immaculately restored Caproni Ca100 is based at Aero Club Como, on the shores of northern Italy's Lake Como.
In April of 1945, the German army occupying northern Italy was in hasty retreat before the onslaught of Allied forces. A squad of Wehrmacht soldiers came to Como, the lovely town at the lake's south end (where, incidently, the seaplane base has been in continuous operation since 1930). They commanded that every Caproncini be taken into the middle of the lake…and sunk.
But someone whose name is lost to history saw what was coming and took steps to avert the aviation tragedy. A single Caproni Ca100 escaped the watery burial. Secreted to the little town of Pavia, an ancient Roman city 20 miles south of nearby Milan, it survived the Allied invasion untouched. Lake Como wasn't so kind to Italian dictator Benito Mussolini. Days later, just a few miles to the north, Il Duce met his grisly fate. Hoping to escape his own citizens and the Allies, he disguised himself as a Nazi officer riding in a German convoy, but was captured in Dongo, a town on Lake Como's northwestern shores. Told by his captors that he was being rescued, Mussolini was instead unceremoniously stood up against a wall with his mistress and machine-gunned to death.
Many years later, a young accountant came to Lake Como with a dream—to learn to fly. It was the 1960s, a time of renaissance for Italian culture. Fellini had just released the wildly popular film,
La Dolce Vita
.
Excited to make his first flight, Gerolamo Gavazzi climbed into the dilapidated open cockpit of an old seaplane. In his logbook at the end of the day, he wrote down the registration number: MM65156/I-ABOU. His instructor told him it was one of very few Italian aircraft to escape destruction in World War II.
"I had met my first love," says Gavazzi today of that encounter. He would never forget the airplane. Gavazzi went on to earn his license, all the while remembering the plane. By 1968, however, the little Ca100 he left behind was worn out, and its airworthiness certificate was yanked.
The Ca100 that Gavazzi flew remains almost the only survivor of a large number of Ca100s built to train pilots from 1929 on. The Caproncino was the brainchild of Gianni Caproni, an Italian count and engineer who founded his aeronautics factory in 1909. Thousands of Caproni heavy bombers, advanced for the time, were built during World War I for the British, French and U.S. air corps.
Page 2 of 4