Tuesday, October 6, 2009
170-Knot SUV
It's the top of Cessna's piston line, and not unlike ground-bound SUVs, the Turbo Stationair can haul (almost) anything you can close the doors on
As one of the premier general aviation manufacturers, Cessna has always enjoyed something of a utility image. The conventional-gear 180 and 185 are near-legendary in the bush world, able to land and leap back out of places other airplanes would fear to roll a tread.
In nosewheel ranks, the 182 Skylane has a similar reputation as a hauler. Back in the days when airplanes were younger and lighter (just like people), the 182 could carry a full quartet in its four seats. Finally, the 206 Stationair could lift a hockey team, complete with sticks, helmets and protectors. (In fact, the early 206s had the distinction of being the only general aviation airplanes capable of carrying useful loads greater than their own empty weight.)
All four models were highly regarded as bush birds, though the taildragging 180/185 had an obvious advantage in off-airport operations. They didn't have the STOL performance of a Maule or Helio, but Cessnas were nevertheless highly prized among airplanes that worked for a living.
The Skyhawk and 150 were dedicated more to training, and the Cardinal RG and Centurion to cruising, but most other Cessna singles gained fame as hauling machines, capable of lifting big loads with big wings and plenty of power.
Inevitably, as empty weight increased and gross weight and fuel capacity remained static, useful load shrank. A typical Skylane, despite its still-considerable talents as an everyman's family airplane, is now a four-place, three-passenger machine with tanks topped. These days, according to Cessna, a fully fueled Skylane sports a 604-pound payload.
If you need four-place capability and then some, the better bet may be the Stationair. With a standard-equipped 850 pounds of full-fuel payload, the biggest piston Cessna offers heavy lift status for those with a need for its special ability to fly with a load.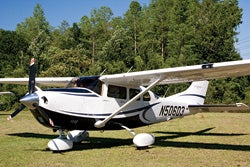 Indeed, it was no big surprise in 1994, when Congress passed the General Aviation Revitalization Act imposing an 18-year statute of repose, that Cessna announced it would resume production of the Skyhawk, Skylane and Stationair. Though everyone assumed Cessna would resume production of the 172 and 182, the 206 was an even more logical candidate, especially overseas where its heavy-hauling utility talents are more important.
British attorney Chris Cope of the Isle of Man was looking for a specific set of talents. He needed six seats and a big payload, but not necessarily full six-place capability. He also wanted good stability for instrument flying in the cloudy skies of the U.K., TKS to help combat inadvertent icing encounters and a high service ceiling to help him top the weather. Cope looked at all the options, essentially the Beech 36 Bonanza, Piper Saratoga HP and Cessna Stationair.
Page 1 of 5