Tuesday, October 6, 2009
170-Knot SUV
It's the top of Cessna's piston line, and not unlike ground-bound SUVs, the Turbo Stationair can haul (almost) anything you can close the doors on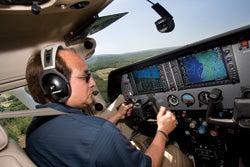 For Chris Cope, the T206's best asset is its generous weight limits. Above, Cessna Chief Pilot Kirby Ortega flies the Stationair for air-to-air photos.
The attorney finally decided on a Turbo Stationair. He felt it was an "exceptionally strong airplane with the talent to handle the weather and the room to enclose a large family." He knew he was giving away an extra 100 pounds of payload for the benefit of turbocharging, but this still allowed 750 pounds in the cabin, easily enough to accommodate his normal passenger load of wife and four munchkins.
"I like the idea of separate rear cargo doors to load the kids in the aft cabin and six forward-facing seats," Cope told me. "That way, I'm not looking at the back of their heads from the left front seat. The aft seats are a little small, but so are my kids, so that's not a problem."
Cope found his near-new Turbo Stationair in St. Louis, Mo., and hired me to fly it from the Gateway City to Ronaldsway Airport on his island home, roughly halfway out in the Irish Sea between Great Britain and Ireland. I flew a second (new) T206 for this story at Sun 'n Fun 2009.
The T206's standard 87-gallon tanks would have been sufficient to make the Atlantic crossing by the northern route, through Iqaluit, Sondre Stromfjord and Kulusuk, well above the Arctic Circle. If you must minimize the distance, then you can fly legs no longer than 500 nm on that route, but Cope had arranged for a 50-gallon ferry tank to make things easier and the flight more direct. This gave us a theoretical six-hour endurance plus reserve, enough to cover well over 900 nm in no-wind conditions.
The trip didn't demand any high-altitude departures, but it was nice to know the Lycoming's twin Garrett turbochargers could have handled any airport in the United States or Europe without a loss of power. The T206 uses a 310 hp TIO-540-AJ1A engine, one of the smoothest of the big Lycs and also one of the most reliable. The same basic engine is rated for as much as 350 hp in other applications (Piper's Mirage, Navajo Chieftain, Mojave and Aerostar 700P) and recommended for 2,000 hours between overhauls on the Turbo Stationair.
Stationair Adventure!
The image of the Cessna Stationair is one of a hard-working utility airplane, dedicated to helping its owner earn a living. To some extent, Bill Ellison of Bradbury, Calif., defies that image. His T206 primarily is used as an escape vehicle for family and friends.

Ellison owns Pack West Machinery, a company that manufactures packaging machines, and like any intelligent business owner who's engaged in interstate commerce, he has a need for fast, efficient transportation that doesn't rely on the scheduled airlines. Perhaps surprisingly, however, Ellison says he uses his plane as much for pleasure as for business.

In the two years since he purchased the new Turbo Stationair from Tom's Aircraft in Long Beach, the owner has flown nearly 280 hours all over the Western United States with his family and friends. "I'm totally sold on this airplane for any mission I need," explains Ellison. "It's just the perfect traveling machine for me. I fly with my wife, son and daughter all over the West Coast. In the last two years, we've flown the Stationair back and forth to Kalispell and Great Falls, Montana, several times, to Lake Havasu, Arizona, up into Oregon, Washington State and Canada and a dozen other places.

"The T206 is a great traveling airplane and very sure of itself. It's a stable airplane that drives right on through turbulence, and the Garmin G1000 makes the panel into a giant video game," Ellison comments.

The owner flies the Stationair pretty much as it came from the factory, though he did replace the standard TIS avionics feature with an active TCAS that will identify traffic outside of major terminal areas.

"I imagine a Caravan would be great someday," Ellison explains, "but I'm not sure what I'd do with it now. In my current situation, I don't need the seats or the extra room, and a Caravan wouldn't fly that much faster. For this stage of my flying career, the Stationair is exactly the right airplane at the right time."

Read "What Fits In A Stationair?" to learn what Cessna 206 owners like Bill Ellison can pack into their "flying SUVs."

Page 2 of 5