Wednesday, June 1, 2005
2005 Electronic Skyhawk
It's here—the most popular airplane in the world now comes with a glass panel

When Garmin premiered its G1000 do-everything glass-panel avionics system in mid-2003, the package was perceived as an extremely talented collection of electronic wizardry obviously intended for high-end general-aviation aircraft. Glass panels have been available on airline and corporate aircraft for years, but the G1000 expanded the technology to general aviation. " />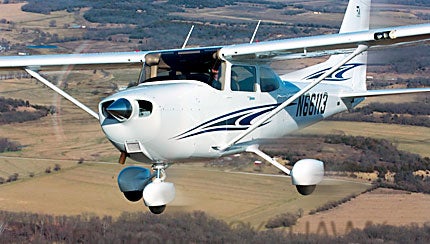 When Garmin premiered its G1000 do-everything glass-panel avionics system in mid-2003, the package was perceived as an extremely talented collection of electronic wizardry obviously intended for high-end general-aviation aircraft. Glass panels have been available on airline and corporate aircraft for years, but the G1000 expanded the technology to general aviation. Unlike Garmin's 430 and 530 that bedeck the panels of new planes from 1999 onward, as well as 40,000 older models on the retrofit market, the G1000 wasn't initially targeted at the aftermarket.
At an installed price at least $55,000 over and above most new aircraft base prices, it might have seemed logical that the full-featured G1000 wouldn't infiltrate the lower rungs of new general-aviation airplanes. The manufacturers knew better, however. Models such as the Piper Archer and Cessna Skyhawk are such popular, easy-to-fly machines that many pilots who could afford more expensive airplanes prefer to stick with the simpler aircraft and equip it with enough avionics to make a GA pilot aquamarine with envy.
Accordingly, Cessna elected to offer the G1000 system in its entire piston line, all the way down to the venerable Skyhawk. The Skylane and Stationair were the first to be certified with the Garmin system; the Skyhawk 172R-GA and 172S are expected to be certified with slightly different versions of the system in Spring 2005.
As you can imagine, you don't need many other options if you have the exotic Garmin avionics package fitted to your Skyhawk, and the Cessna 172S previewed by P&P had the full G1000, plus the new, optional, rear-seat AmSafe Aviation Inflatable Restraint (AAIR) system. The AAIR bag is a direct fallout from automotive air-bag systems and consists of an air pillow contained within the upper member of the shoulder harness. When the system detects a 16 G impact, it automatically discharges a high-pressure gas, and expands and inflates the diagonal restraint. In survivable accidents, the system is designed to shield the occupant's head and upper torso from impact with panels, yokes, glare shields and other internal aircraft structures. Front-seat AmSafe air bags are standard on the Skyhawk, and $1,500 buys them for the rear seats as well.
Page 1 of 4