Tuesday, March 24, 2009
2009 Cessna 172S: Skyhawk In Year 53
Forever young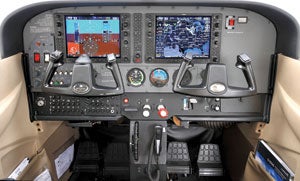 The Skyhawk now comes standard with the Garmin G1000 glass panel, including terrain and traffic, XM Satellite Weather and G700 autopilot. Synthetic Vision Technology is an option.
Despite their high use rate, Skyhawks benefit from an excellent safety record. That's partially a function of the model's low approach speeds, and also because the airplane is a reasonably tough machine. Drag is sufficient to keep speed from building excessively, even if a pilot gets into a graveyard spiral (though it's hard to imagine how one could do that in a Skyhawk). With those thick, tough struts connecting the wings to the fuselage, even full control deflection shouldn't break anything, and the NTSB has few reports of in-flight structural failure.
As Peggy Herrera described above, ­students and owners love the airplane, and that's partially a function of how many cheeks it's been able to turn to the mistreatment of pilots and the hands of time.
The first Skyhawk was the first modern three-passenger Cessna with four seats installed. Today, a typically equipped airplane sports a payload of about 500 pounds, easily enough for two folks up front plus one or two munchkins in back. Full fuel is 53 gallons, and if you leave 20 gallons in the truck (with about 2.5 hours of endurance plus reserve remaining), payload increases to just over 600 pounds, not quite four folks worth.
The good news is that pilots rarely are tempted to fly a full seats/full tanks mission in a Skyhawk, though the new glass panel and gee-whiz Garmin autopilot would make the trip next to automatic.
One trick that's fun in a Skyhawk if the load isn't heavy is a short-field takeoff. The technique is simple: power to the stop against locked brakes at the first foot of runway, release the binders when power peaks, count to three, lever in two notches of flaps and rotate at 35 knots. It's not that dramatic, but if you do it right, the airplane will transition to the sky in less than 800 feet.
Similarly, the 172's low stall speed allows short-field landings shorter than 500 feet if you're willing to use the bush pilot's 1.2 Vso approach speed. Approach at 57 knots rather than the recommended 65 knots, and you can ground the airplane and brake to a stop in less than 500 feet.
The usual proviso applies, however. Don't try this at home unless you're very familiar with the stall characteristics and the wind is steady and right down the runway. There was a time when you could buy a Skyhawk in bare-bones configuration, then add options at will. No more. The "basic" Skyhawk S is hardly basic in any respect. At $297,000, it comes standard with the Garmin G1000 glass panel, including terrain and traffic, XM Satellite Weather and Mode S transponder, plus Garmin's do-everything G700 autopilot, the aforementioned vertically adjusting, all-leather seats and most of the other options pilots normally order. The option list is short; primarily, air conditioning ($29,365), TAWS-B ($8,935), Synthetic Vision ($9,400), AmSafe seat belts ($1,785) and three-frequency ELT ($7,920).
At 53 years old, the latest Skyhawk has aged better than Heather Locklear. It may not win the swimsuit competition (Locklear still might!), but along with the Cirrus SR22, the venerable 172 has proven to be one of the airplanes most pilots buy most often.
Page 4 of 5