Saturday, May 1, 2004
A Lark That Won't Quit
An addiction to flying leads a pilot to a Cessna 175

Greg Carter—standing by his pristine Cessna 175 Lark, parked amid the 2,000 show planes at the 2003 AirVenture in Oshkosh, Wis.—tries to tell me why he's so happy to be here. "Well, you know, I tried to quit flying once. I really did. But after a while, I found out that I just couldn't do it." This is how first-timer Greg Carter begins the story about how he and his wife, Barbara, flew their Cessna 175 Lark to the AirVenture fly-in at Oshkosh.
" />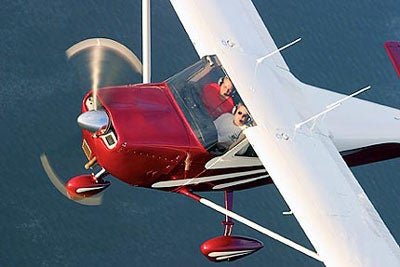 Greg Carter—standing by his pristine Cessna 175 Lark, parked amid the 2,000 show planes at the 2003 AirVenture in Oshkosh, Wis.—tries to tell me why he's so happy to be here. "Well, you know, I tried to quit flying once. I really did. But after a while, I found out that I just couldn't do it." This is how first-timer Greg Carter begins the story about how he and his wife, Barbara, flew their Cessna 175 Lark to the AirVenture fly-in at Oshkosh.
The Carters flew their Lark from Arkansas to Oshkosh and camped with the Vintage Show planes all week. "We flew it up here together and put up a tent. I've never been to Oshkosh before and this is the most fun I think I've ever had," beams Greg.
With a smile and a twinkle in her eyes, Barbara nudges him and adds, "He's like a kid in a candy store. I haven't seen him in two days; he just has so many airplanes to look at."
Unbounded enthusiasm for flying isn't something you'd expect to hear from someone who tried to quit flying as if it were an addiction. Addiction is a harsh word, usually describing a destructive influence on a person's life. For Greg, however, flying has been a positive part of his life, almost from the start.
"I joined the Navy when I was 17 years old," remembers Greg. "They sent me to Jacksonville, Fla., to be an ordinance man on subchasers. I also flew as an aircrew man on P2Vs and P-3 Orions. I guess I just liked flying so much that I had to try it, so I joined the base flying club. It was great! It cost $5 an hour wet and $15 with an instructor. I learned how to fly in a Piper Vagabond and I just loved it. Then, I joined the reserves, flying Navy P-3s all over the world. I just loved flying."
Greg and Barbara's Lark isn't their first airplane. The first airplane they owned was a Piper Tri-Pacer. They began flying to visit their daughter in New Mexico and Greg's brother in Kansas.
Page 1 of 3