Tuesday, January 24, 2012
A Skyhawk For Everyone
Cessna's hit airplane keeps getting better with age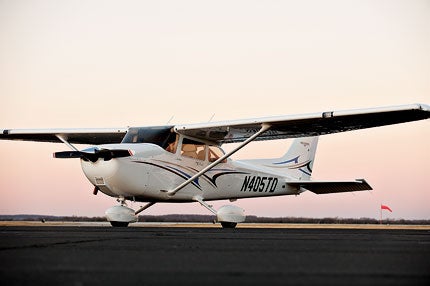 The 2012 Skyhawk features three new exterior paint schemes and a Garmin GTS 800 traffic system that integrates with the G1000 and is ADS-B compatible.
All really great flying adventures begin at dawn," wrote Stephen Coonts in his cross-country odyssey
Cannibal Queen
, and those words were all I was thinking about as I drove to the airport with the sun still hiding and the new day before me. I was excited because I'd be flying Cessna's new Skyhawk, and the prospect was enticing.
To some, the idea of flying Cessna's venerable 172 may not conjure up adventure, but to me, the airplane is something of an aerial version of Chevrolet's classic 1956 Bel Air—a vehicle whose pedestrian character belies the fact that it's simply a cool ride. They were both born in the same year, and who doesn't like an airplane they call
The Pilot Maker
?
So much has been said and written about Cessna's Skyhawk that any conversation should begin with what the airplane isn't, because that's where its strength lies. The 172 isn't very fast, and it's not an exemplary hauler. It's not miserly on fuel nor is it a fast climber. The Skyhawk doesn't land especially short, nor is it highly maneuverable. The Skyhawk is none of these, yet is enough of each, and that's why it's the biggest-selling aircraft in general aviation history.
That morning, I would be flying with Rich Manor, President of Pacific Air Center, one of Cessna's most successful dealers. Our plan was to depart Long Beach and head over the rolling hills of California's Central Coast and stop at Santa Maria for breakfast. That's a typical mission for a Skyhawk, so I wanted to experience it in its natural habitat. The forecast was for clear weather with winds picking up in the late afternoon.
There's no need for a detailed history lesson on the Skyhawk, but pilots may like to know today's 172 was borne from the idea of putting tricycle gear (then called Land-O-Matic) and a new empennage on the Cessna 170 airframe. Otherwise, the original 172 was identical to the 170: manual flaps, a 145 hp Continental O-300 engine and a gross weight of 2,200 pounds. There was no rear window on the first 172, and most of us have seen the straight tail it sported those first years.
There were 1,174 of these babies that rolled off the production line the first year—8,999 in the first five years! The airplane was a runaway success. Pilots loved its gentle handling, benign flight characteristics, the simplicity of its tricycle gear and those big flaps that made landings easier for beginners. In 1960, the bird got its now-recognizable swept tail; in 1961, the name "Skyhawk" was first used. The rest really is history.
Page 1 of 5