Tuesday, January 24, 2012
A Skyhawk For Everyone
Cessna's hit airplane keeps getting better with age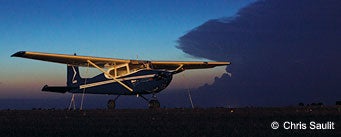 The first Cessna 172 ever manufactured, N5000A, at the Cessna 172 Club 2011 Annual Fly-In at Strother Field in Kansas.
New For 2012
Cessna offers two variations of the 172: the Skyhawk and the Skyhawk SP ("Special Performance"). The SP adds 20 hp to the standard Skyhawk's 160 hp. Max cruise speed on the SP is 126 knots, so it gets you where you need to go at a fair clip. Depending on power setting, you can count on somewhere between eight and 10 gallons-per-hour fuel burn at cruise, so with the full 56-gallon fuel load, you can expect a range of just over 600 nm.
Options for 2012 include air-conditioning (a $30,860 STC add-on), pedal extensions, stabilizer boots, a single "observer's" seat to replace the rear seats (genius for flight schools), and AmSafe restraints for the rear seats. The avionics goodies to choose from are Garmin TAWS-B, ADF/DME on the PFD, Garmin Synthetic Vision Technology (SVT), Enhanced Vision System (EVS) and ChartView by Jeppesen. Considering the first 172s sold for around $8,750 in 1956, the SP's current price tag of $307,500 shows the difference five decades makes.
Roiling around in the turbulence, I was reassured by the Air Safety Foundation's study on the 172 that found the Skyhawk has a great safety record. The Cessna has fewer serious accidents than a comparison group of similar aircraft. Happily, when Skyhawks are involved in accidents, their occupants most often survive or suffer minor injuries. With nearly 60,000 172s built since they were first introduced, the world's most popular airplane is also one of its safest.
Back in the cockpit, the wind vanished suddenly. Just south of Santa Monica, we hit air so calm it was still foggy on the ground. Winging our way back home, I could feel the 55 years of history coursing through the yoke and into my hands. This is, after all, an everyman's airplane. Put it in any role, and the Skyhawk can hack it with the best of them. Never sexy or flashy, the Skyhawk isn't a niche airplane—it does everything well. And it has taught more people to fly than anything else with wings.

Once a day, the two pilots would lower a winch cable with a hook on the end and pull up a rubber hose from a truck carrying the fuel and driving beneath the Skyhawk.

Slipping in and dropping full flaps for a landing after my too-high approach, I was reminded what a forgiving aircraft the Skyhawk really is. Disappointed we couldn't make our destination, but grateful for the Skyhawk's plumb-line stability in turbulence, we touched down not too badly; our dawn adventure was over. And it was a blast.
Page 4 of 5