Tuesday, April 21, 2009
Caravan for the Jet Set
Cessna's Caravan goes plush, with all the accoutrements of a jet (except the speed)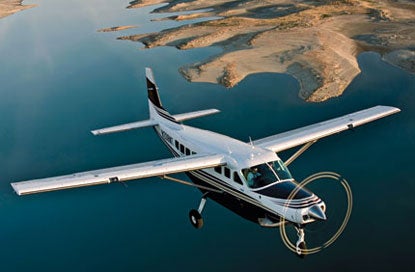 Ride in the back of Brian Linehan's new Grand Caravan, and you'd hardly know you were traveling in a $2 million single-engine turboprop rather than in a $6 to $8 million corporate twin jet.
Well, okay, that's a little hyperbolic. You could look out the window and notice that there's a high wing overhead.
Not a lot of jets with that feature. You also might see the ground below and note that you're not traveling especially high or fast.
If you're reasonably astute and facing forward, you might perceive the blur of a prop out front, a dead giveaway that your thrust is courtesy of Bernoulli rather than Whittle.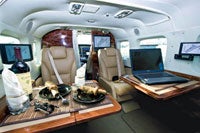 Linehan Aviation transports corporate executives in the nine-seat Caravan's huge cabin, which is 62 inches wide, more than 48 inches tall and nearly 17 feet long. Pilots fly behind a Garmin G1000 glass suite.
But lacking those obvious clues and with only the interior accommodations as a guide, you very well might conclude you were traveling in a Cessna Citation X or even a Gulfstream V. You'd certainly never guess you were flying in a 160-knot, single-engine turboprop.
Cessna makes no apologies for the Caravan, and well they needn't. Other manufacturers can only envy Cessna's decision to proceed with the model 208 in the early '80s, despite what seemed a staggering introductory price of $640,000. Buyers apparently weren't intimidated by the initial high price of admission, and the Caravan has gone on to become one of Cessna's most successful airplanes.

Icom IC-A24 Handheld

www.icomamerica.com
The IC-A24 offers VHF NAV/COM functions, including a duplex feature that allows you to talk using the selected COM frequency while the unit displays a digital CDI showing deviation on the selected NAV channel.
To date, Cessna has produced some 1,700 of the type, worth at least $2 billion. FedEx alone is currently served by 300 of the biggest Cessna singles, and many more 208s are operated by subcontractors. Dispatch reliability is better than practically any other model, typically above 98%.
Cessna currently offers four models of the 208, the straight Caravan 675 and 675 amphibian, plus the Super Cargomaster and Grand Caravan, the latter two airplanes are stretched four feet (and not approved for the float option). All fly behind the seemingly bulletproof 675 hp P&W PT6A-114A, rated for 3,600 hours between overhauls.
Page 1 of 5