Tuesday, April 21, 2009
Caravan for the Jet Set
Cessna's Caravan goes plush, with all the accoutrements of a jet (except the speed)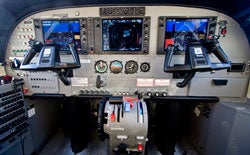 Lately, Cessna has discovered that the airplane they originally envisioned as a flying panel truck has become more of an aeronautical Cadillac Escalade. It seems there are many corporate executives whose travel requirements don't demand transcontinental range, high Mach numbers or tall altitude. In fact, business airplanes often fly short trips as well as long stage lengths. Several years ago, the National Business Aircraft Association surveyed its members and discovered the average business trip was only about 250 nm. Admittedly, a typical business jet could make that trip in under an hour, but a Caravan could fly the same hop in an hour and a half at a dramatically reduced operating cost. Caravans had long been used in various passenger applications all over the world, but Cessna quickly discovered that not all corporate flyers needed to span continents at 500 knots.

Artex ME406 ELT

www.artex.net
The 406 MHz ELT weighs just two pounds and transmits on 121.5 and 406.028 MHz. Its single-antenna output feeds a wire whip or a rod antenna, depending on the aircraft speed.

| | |
| --- | --- |
| Brian Linehan (right) the owner of Southern California–based Linehan Aviation, spent nearly $200,000 upgrading his charter aircraft. On average, the Caravan flies three revenue flights weekly. | |
Today, nearly a third of Cessna Caravans are configured for corporate transport rather than pure cargo missions. Brian Linehan, owner of Linehan Aviation (
www.linehanaviation.com
) in Long Beach, Calif., is a Cessna fan from way back. He owns an original, straight-back 172C along with a recent-vintage 172R, and he purchased his Grand Caravan last year from Tom's Aircraft (
www.tomsaircraft.com
) in Long Beach, Calif. Working with Rich Manor, a Tom's sales manager, Linehan configured the airplane for exactly the mission he had in mind, including a custom interior fitted by Capital Aviation (
www.capitalaviation.com
) in Oklahoma City.

The 208 makes a stable, predictable instrument platform with low approach speeds, and it's easily adaptable to both paved and turf/grass runways.

The charter operator spent nearly $200,000 to bring the Caravan's nine-seat, luxury accommodations to their present state. The result is easily the equal of the furnishings in an Avanti or a Canadair Challenger.
Page 2 of 5