Tuesday, December 1, 2009
Cessna 162 Skycatcher: It's Here!
Cessna's successor to the 152, the Skycatcher, is poised to shine in the trainer market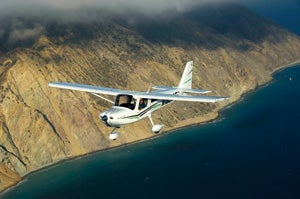 The 162 was designed with economy of both price and empty weight in mind, the latter specifically to preserve a reasonable useful load. To that end, a standard production test airplane will come in with an empty weight of about 830 pounds. (The test airplane was still outfitted for flight-testing, so it was about 60 pounds heavier.) That should leave 490 pounds for people, fuel and stuff. With a full service of 24 gallons on board, the airplane retains 346 pounds of payload.
Starting at the spinner, the final-production Skycatcher uses an all-metal, fixed-pitch McCauley prop in place of the original composite blades. Similarly, the POC airplane's Rotax 912 has been replaced by a 100 hp Continental O-200D—a new, improved version of the Cessna 150's O-200A powerplant.
The new engine employs lighter components and a smaller battery (it looks like the battery on my BMW motorcycle) again in pursuit of the most difficult economy in aviation: reduced empty weight. In total, the new O-200 is 35 pounds lighter than the original used on the 150. As with the O-200A, the new engine burns 5.5 to 6 gph at max cruise, so 24 gallons allows about three hours' endurance plus reserve. TBO is 2,000 hours.
In pursuit of safety, Continental designed the oil dipstick with a clever 90-degree lock position. If the stick cap isn't locked into place by folding it horizontally, the oil-service door won't close, making it obvious from the cockpit that something's not right.
The nosegear is nonsteerable and full castering, and to my mind, that's a perfect combination for a trainer—lightweight, yet capable of providing better ground maneuvering than any airplane with a conventional steerable nosewheel. If you need to maneuver in a tight space, it's possible to turn the airplane 180 degrees in its own wingspan by simply holding one brake and adding power. In truth, locked-wheel turns aren't a good idea (they tend to flat-spot tires), but they're at least possible with a full-castering nosewheel—just don't try pushing the airplane straight backwards without a tow bar.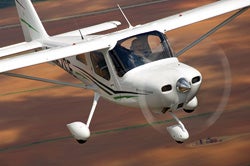 Perhaps in keeping with Cessna's tradition of building all-metal planes (okay, the Corvalis is primarily composite, but it didn't start off as a Cessna), the 162 is basically all aluminum, with only a few fiberglass components. The wheelpants, wingtips and wing/tail attach fairings are the only pieces that aren't aluminum.
The wing is set well back on the 162 design, with struts mounted far enough aft that they don't interfere with the two cabin doors. Ailerons and flaps are interchangeable from one side to the other, and the ailerons offer max up travel and minimal down travel, an anti-spin improvement that was a fallout from the two spin accidents.
Both of those incidents have been well chronicled, so we won't belabor the subject here. The most relevant point is that full-power/full-flaps/full-cross-controlled stalls are well outside the province of LSA anyway. The FAA doesn't require such antics for LSA certification, but Cessna felt the tests were necessary to assure a safe airplane, especially one that would be used heavily for flight training.
Page 2 of 4