Tuesday, December 7, 2010
Cessna 170A: Rebuild Of A Lifetime, Literally
Jacobson passed his checkride in this cessna 170A in 1962, and look at it now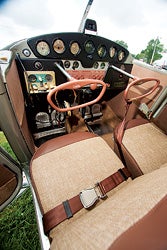 Stephen "Jake" Jacobson restored this Cessna 170, originally purchased by his father in the 1960s for $3,500, to prize-winning condition. It was the recipient of the Grand Champion Classic Aircraft award at EAA AirVenture, as well as many other awards.
After Garrett and Lodas completed the structural work on the fuselage, Chris Shaw joined the team at Del-Air and added his expertise to rebuilding the wings, cowling and instrument panel. Paul and John retired before the airplane was finished, so Chris took on the rest of the project. Chris overhauled the instrument panel, rewired the entire airplane and did the final assembly.
"One of the biggest challenges we encountered during restoration was finding cabin-interior fabric details and specifications," says Jacobson. "This information was not readily available until Cessna started producing the 170B model. Just when we were about to give up on the original interior, Steve Fushelberger, a former Cessna employee, put me in touch with Ron Partridge, Customer Service Manager, at Cessna's Propeller Division. With the permission of Jack Pelton, Cessna's CEO, Ron was able to provide me with archived factory engineering interior drawings for N5752C. This included the original fabric specs, as well as the dimensions and locations of the stitch lines."
"Using this information, Ronnie Broadhead, owner of Buster's Upholstery in Porterville, Calif., re-created the original interior. Ronnie has restored several award-winning Cessna 195 interiors and is well known in California for his custom interiors in helicopters and collector cars," Jacobson explains.
Jacobson says the help he received from Cleo and Louise Bickford and George Horn of the Cessna 170 Owners Association was invaluable. "Without them, N5752C might have been parted out and recycled into the aircraft-salvage market," says the owner.
The results speak for themselves and have met with universal approval by those who know the difference. After being grounded for what seemed like a lifetime, N5752C made its first flight in 22 years on February 14, 2007. Two months later, it won Grand Champion Classic Aircraft at EAA AirVenture 2007. It also has been awarded Best Original 170A three times by the International Cessna 170 Club and won Best Restored Classic at Sun 'n Fun in 2010.
What Jacobson and friends produced was a near-perfect example of the airplane that came to be considered Cessna's everyman's single in the decade immediately following World War II. Though it was to be replaced by the tricycle-gear 172 in 1956, the Cessna 170 was perhaps the world's most popular four-seater in the decade between 1947 and 1956. The 170 and 172 shared practically everything except the landing-gear configuration, though there were a few other changes. In fact, the similarities were so significant that the original 172 wasn't even its own airplane. The new airplane was initially certified the easy way, under the Cessna 170's type certificate. It was only later granted its own TC.
Page 3 of 4