Friday, February 1, 2008
Cessna 195: Getting Down To Business
Cessna's postwar, art-deco Businessliner neither outsold nor outran the model 35 Bonanza, but it outclassed practically every other lightplane in the sky
You sit high in the 195, about even with the wing, so maintaining visibility is easier by simply leaning forward ahead of the wing and looking out the side of the windshield. I discovered this problem during the formation session. It's a relatively easy bird to hold in position, but you do need to avoid losing the photo ship above or below the wing.
Farrow suggests that block cruise is about 135 knots, and if that's at least 60 knots slower than his old Baron, he doesn't mind a bit. "I can fly for as long as four hours if I need to," says the owner. "That's nearly 550 nm in the 195, and I enjoy flying the airplane so much, I hardly notice."
Perhaps the Cessna 195's strongest suit is comfort and stability. It plows through turbulence with minimum fuss. "My wife, Jeanie, is a pretty informed passenger, having ridden in several of my other airplanes," says Farrow. "She offers a passenger perspective I might not enjoy, because I'm so wrapped up in considerations of performance, handling and other flying characteristics. She often flew with me in the E55 and other airplanes, and she says there's no question this airplane offers the best ride of any airplane she's been in."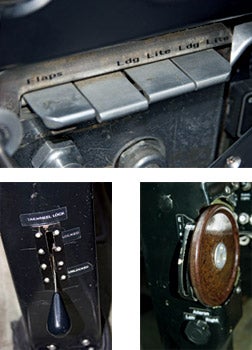 The Cessna 195's art-deco panel, which includes a wooden trim wheel, tailwheel lock lever and piano key–like switches for flaps, evokes a classy era.
Descents in any radial present a challenge in that it's important to maintain reasonable oil temperatures. The 195 is especially susceptible in that the big wing resists descents, seducing you into major power reductions. Chop and drop descents, however, are out of the question in a 195. You need to plan well ahead to make certain you don't induce shock cooling and reduce oil temps to dangerous levels. Precise Flight SpeedBrakes would be a welcome addition coming downhill, but unfortunately, they're not approved on the 195. The only alternative is careful planning and some flaps.
With a dirty stall speed down around 55 knots, approaches work out best at 70 knots or more. The small, short-chord flaps are relatively ineffective except at lowering the nose during approach. Landings aren't nearly the challenge you may expect, but you do need to stay off your toes during landings. The trick is to stay away from the toe brakes unless you're about to lose it completely. Cessna 195s aren't that tough to land unless there's a bad crosswind or you're doing something dumb. I've done my share of dumb things in 195s, but (knock on aluminum) I haven't lost one (yet).
Cessna's last round-engine airplane serves all over the world, and you'll often see the type in Alaska and Canada, operating on wheels and skis as well as oversized tires. No one will mistake it for a STOL machine, but it hauls a good load and can land in places that many other airplanes can't.
If you ask Rick Farrow, he believes he's found the perfect airplane. "I love the 195. About the only thing I'd rather have would be a later model, perhaps one of the last 1954 models.
"There's probably no such thing as an end-all, do-all airplane," Farrow suggests, "and despite all its talents, the 195 certainly wouldn't qualify in every application. For me, though, it offers a little nostalgia, reasonable performance, great comfort and that indefinable quality known as class."
SPECS:
1947 Cessna 195 Businessliner
Page 4 of 4