Tuesday, June 23, 2009
Cessna 400 Corvalis TT
Cessna initiates changes to its recently acquired Columbia line of low-wing singles
"Before the advent of the Corvalis models, we really didn't have any entry in the luxury, high-performance single class," Manor comments. "For that reason, we typically couldn't even talk to pilots interested in a technologically advanced four-seater. Practically everyone recognizes the Turbo Skylane as an excellent airplane, but it was never intended to compete with the Cirrus and Mooney. The Corvalis models put us back in the game."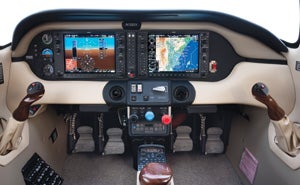 Standard on the Corvalis TT is the SVT-equipped Garmin G1000/GFC 700 avionics panel. New owners also get five hours of training to familiarize themselves with the advanced systems.
In spades. By any measure, the Corvalis TT is now one of the strongest performers in the class. It features a turbocharged, 310 hp Continental TSIO-550-C, the same basic displacement engine that powers the Cirrus SR22-G3, Mooney Ovation 3 and Mooney Acclaim Type S—beyond the displacement comparison, however, this is a dramatically different engine. The turbocharged Corvalis TT is obviously serious about performance, sporting a slick, clean composite finish as smooth as Murano glass. The main gear are carefully faired and tucked elegantly beneath the wings in the optimum position. In short, there's very little hanging out to contribute drag and subtract speed.
With the improvements in the 2009 models, specifically aimed at increasing payload, the Corvalis TT features the greatest payload in its class. At 3,600 pounds gross, the turbocharged Corvalis TT is certified with a maximum takeoff weight that's 200 pounds heavier than the normal-breathing Corvalis.
The basic airplane comes in full froth, with few options even available (though, as mentioned above, you can delete air-conditioning). Our test machine was a standard-equipped example, priced at the base $635,000. Empty weight checked in at 2,558 pounds against a 3,600-pound gross. With the 102-gallon tanks topped, that left us with only 430 pounds of payload, enough for two folks plus baggage or three semi-lightweights.
Lack of payload is a common complaint among high-performance singles, but it's not always a critical one. Many pilots who buy airplanes in this class know, going in, that the carry limit will be two full-sized folks plus baggage, and they've already made peace with that situation. (I've been flying a four-seat Mooney for 20 years, and I've filled the seats no more than a half-dozen times.)
Fortunately, most missions don't demand full fuel, and departing with 60 gallons in the Corvalis TT still provides two-and-a-half hours of endurance plus reserve. That allows a 500 nm range, even at breathable altitudes, while boosting payload to 682 pounds, just over four folks' worth.
If there's any consolation for the low payload, it may be that the cabin is almost automotive in comfort. You step down off the wing and settle into the seat without some of the typical acrobatics of other low wings. The gull-wing doors fold up and out, à la Mercedes 300SL, and leather straps on each side help pull them back down to camlock in place.
Once you're ensconced in the tuck-and-roll front buckets, space is more akin to that of an Audi than a typical general aviation airplane. The Mooney Acclaim Type S definitely has a slight advantage in cruise speed, but for many pilots, comfort counts for quite a bit. The Corvalis TT scores better in cabin room, a 4x4-foot enclosure with plenty of elbow, hip and legroom.
The Corvalis line features side sticks that are something of a mixed blessing. On the positive side, they open up the space directly in front of both pilots and allow ready access to all controls and switches. Conversely, roll response with the short throw of the stick inputs to the control rods is heavier than with the mechanical advantage of a yoke with cables and pullies. In a similar sense, you can't simply rest your forearm on the armrest and steer the airplane with a flick of your wrist. Control forces aren't oppressive, but the airplane does demand some minor muscle in maneuvering.
Page 2 of 3