Wednesday, November 30, -0001
Cessna Caravan 675 Amphibian: By Land and By Sea
From the hard deck or a Canadian lake, Ed Santangelo's Caravan amphib gets the job done
Pop quiz: What do Harrison Ford, an Arabian prince, Jimmy Buffett, one of the founders of Microsoft and Ed Santangelo all have in common? Answer: the Cessna Caravan—on floats.
Okay, you say, I've heard of those other guys, but who's Ed Santangelo? No less than the founder and CEO of RMS Services, an international record systems firm that's the company in its field. Santangelo saw the coming technological wave and prospered mightily by helping hospitals, university medical centers and other institutions with large healthcare networks to transition from paper and film to digital record-keeping.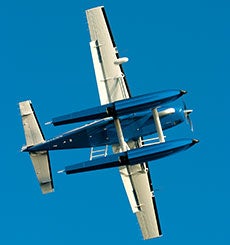 It takes hands-on care to main­tain a business employing more than 500 people throughout North America and Australia. And "hands-on" means travel—tons of it. Enter the Caravan 675 Amphibian. Spawned in 1985 as an entirely new airplane, not a stretch or modification of an older design, the Caravan is a rugged, reliable hauler that offers a broad range of complex transportation solutions. Configur­able in a variety of models, the high-wing workhorse gets its muscle from a single Pratt & Whitney PT6A-114A turboprop delivering 675 shaft horsepower. That engine has racked up an impressive 300 million flight hours with enviable safety and reliability records. For a man with a need to fly both business and family missions on an almost daily basis, flexibility and safety are top requirements.
"I travel 22 days a month," says Santangelo, who lives with his wife and three young children near Pontiac, Mich. "But airfares for the short trips are outrageously expensive. While Detroit to L.A. might cost $450 a ticket, Detroit to Cincinnati can be $1,700."
Crunching the numbers showed him travel costs in his own Caravan would be about $250 for the same 280-mile trip. Once he figured in all the convenience factors, as well as the ability to carry up to seven additional people (for around $30 per person!), "it just made a lot of sense to think about an airplane like the Caravan," says Santangelo.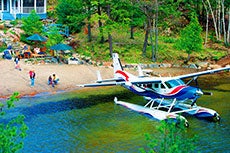 Owning a plane that can land on ground or water enables Santangelo to make business calls almost anywhere, plus take his family to their summer home on Lake Muskoka in Canada
But cost factors weren't the only criteria that led him to take delivery of his Caravan 675 Amphibian from Michael DeWitt of Aero Power Distributing in October 2002. There was also that precious cargo he'd need to carry back and forth from his beautiful summer home on Canada's Lake Muskoka—his family. Traveling 300 miles each way across the U.S.-Canada border in Santangelo's Great Lakes environs is a long, wearying road trip. By air, it's a comfy two hours or less. "That sure beats a rough six- or seven-hour drive for the kids," Santangelo adds. Toss in the ability to make more than one business stop in a single day, usually impossible with commercial flights, and you see why the Caravan was Santangelo's dream plane.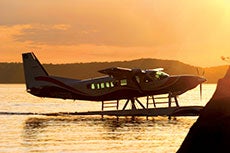 "Ed had the perfect need and utilization for the airplane," says DeWitt. The exclusive authorized Cessna rep for Michigan, Ohio, Indiana and Kentucky, DeWitt was instrumental in making the concept of airplane ownership work for Santangelo in the first place. One of his biggest concerns was hiring a qualified pilot, getting the plane into service, then finding the right center to maintain it. "Mike DeWitt has been exceptional," says Santangelo. "He went way beyond the call of duty by interviewing pilots for me and finding the very best aircraft service people."
Page 1 of 3